Darwin Accommodation
Bed & Breakfast Style
One option for your Darwin Accommodation is to go bed and breakfast style in the few private B & B's in Darwin and nearby suburbs.

The smaller B&B's listed below offer an entirely different style of accommodation to the bigger hotels, motels and other establishments designed with the mass tourist market in mind.

If a quiet family-style holiday is your goal, one of these might be ideal.


Use the search box to search and book online, or use the contact list below for a direct contact number.
Darwins Barra Base
Provides accommodation and guided fishing safaris throughout the Rivers and coastal waters of the Top End. Only five minutes from the airport.
Caters for corporate groups, families and singles. They are a fully qualified and accredited child-care facility. Have a day or two to yourself while they take care of the kids.
More Information and Contact details



Darwin Barra Base
Eden at Fogg Dam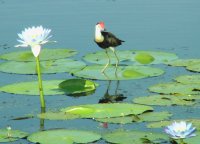 Jacana at Fogg Dam
Fogg Dam is a wildlife paradise attracting bird watchers and tourists from around the world. The aptly named Eden Homestead is an award winning B&B surrounded by natural bushlands and a certified organic tropical farm. About an hours drive from Darwin on the Arnhem Highway.
Please note; Eden is no longer operating
Feathers Sanctuary
Hidden in a quiet natural setting right in the centre of suburban Darwin, here you can enjoy one of several stand alone tropical huts. As the name suggests, this is a bird sanctuary with many different bird species and the owners are happy to share their experience of these birds with you.
Phone 08 8985 2144 or 0408 895 512



Accommodation Huts
Frangipanni Bed and Breakfast
Frangipanni B&B offers private access to a clean, fresh tropical style room and bathroom beneath the family's elevated home.
While they can only offer one booking at a time, this could be ideal for a family looking for affordable accommodation.
Surrounded by garden and grassy lawn, indoor and outdoor living are combined to maximize enjoyment of the tropical lifestyle.
Located in Rapid Creek a short distance from shops and beach.
Phone (08) 89852797
Grungle Downs Tropical Bed and Breakfast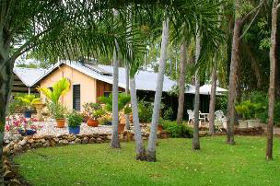 Grungle Downs at Knuckey Lagoon offers the perfect Tropical Retreat and Country Residence for those seeking an opportunity to enjoy the spaciousness and beauty of a rural property close to all the facilities Darwin has to offer.
The Grungle Downs Cottage is spacious and completely self-contained with quality furnishings and is an ideal space for families and pets are welcome.
Phone +618 8947 4440

More Information and Contact details
Lily Pad Bed & Breakfast
Also located in Rapid Creek, this is another downstairs self contained, self catering living space. Suitable for two adults and their children.
With chickens, vegetable garden and bees in the back garden, this will appeal to people who appreciate an organic, smoke free environment. Enjoy a shady pool and a bbq set in a lush tropical surround.
Phone (08) 8985 4293
Steeles at Larrakeyah
Within easy walking distance of Darwin city, shops, tourist facilities, Mindil Beach markets, Cullen Bay beach and the Botanic Gardens. Accommodation available at the B&B includes a double room, a queen room and a studio apartment. Two apartments are also available in Harriet Place, even closer to the City Mall.
Phone 08 8941 3636
Click here to add your accommodation to the Darwin Accommodation Directory