Coolalinga
Coolalinga is a growing centre for the Outer Darwin Rural area. Modern shopping and banking facilities service Howard Springs, Humptdy Doo and Fred's Pass near the Stuart and Arnhem Highway junction.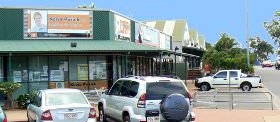 Looking North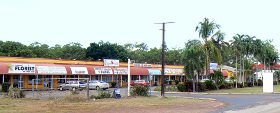 Looking South
Retail shops stretche out alongside the Stuart Highway south of Palmerston.
A new Woolworths Supermarket and the Coolalinga Community Bank®, along with Saturday Markets, reduce the need for rural residents to venture in to Palmerston or Darwin for day to day needs.
Many people find the rural lifestyle in the area more attracive than living in suburban Darwin. And with development in Darwin limited by a lack of suitable land, this can only mean ongoing growth for the district.
Planning by the NT Government to develop a new city At Weddell a few mies to the south will also ensure this area maintains it's growth as an important commercial hub.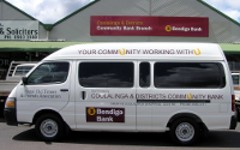 Community Bank Bus
Coolalinga Community Bank® was opened in September 2006 to provide banking services to the district.
This Community Bank® has been able to provide significant support to local projects. Donations to community groups and schools and services such as the community bus have resulted from this partnership between local people and Bendigo and Adelaide Bank.