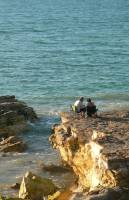 Enjoy life on a friendly rock with a cool sea breeze....
Tourists come for many different reasons too; Some come to fish for giant barramundi, some for the Mindil Beach Markets or the Beer Can Regatta, some to visit the oldest rock art in the world at Kakadu.

Many simply come like I did some 35+ years ago just to see what is here. And like myself, many find themselves attracted by the unique Darwin lifestyle and somehow never get around to leaving.
Visit the waterfalls in Litchfield park or see the famous jumping crocodiles in the Adelaide River, spend a night stargazing at East Point or rock along to one of the clubs and dances to meet the locals.
Whether you are living here or visiting for the first time, Darwin is an experience, a lifestyle which can grab you gently with it's tropical breezes and friendly people.
Listed by Lonely Planet Travel as one of the top 10 travel destinations for 2012 ..."with a pumping nocturnal scene, magical markets and restaurants, and world-class wilderness areas just down the road, today Darwin is the triumph of Australia's Top End." 

Look through our Community Navbar on the right for the things that really make this tropical city a special place to live.
The city has had it's share of hard times. More bombs were dropped in it's harbour than on Pearl Harbour in WW11 and it was nearly destroyed by cyclone Tracy in 1974.
Now however it is a prosperous, growing economy with access to vast mineral wealth, a booming tourist industry and an important military base for northern Australia.
With new port facilities, an improved airport, all weather roads and the opening of the north-south railway linking Darwin to the rest of Australia, continued growth is assured.
The many government projects, private developments and community based inititives in the city and surrounding areas speak volumes about the future and the "let's do it" character of the people here.