Darwin Things To Do Directory
Things to do in Darwin - where to stay, what to play, tours to take, things to make, buying presents, selling cars or just having lazy days in the sun.

If your organisation or business provides anything people might be searching for in the Top End, add your own page of information .
Click the most relevant category below and look for the Title Input box.
Remember to write for someone who doesn't know - details like wheelchair access, opening times, pet friendly etc - all these details make a difference.

Use the search box to find information on Enjoy Darwin, or browse through the list below to find information submitted by Darwin Clubs, Businesses, Sports, Artists and more.
Use the Calendar for Festivals and Events through the year.
Add your event to the 2022 Calendar
General categories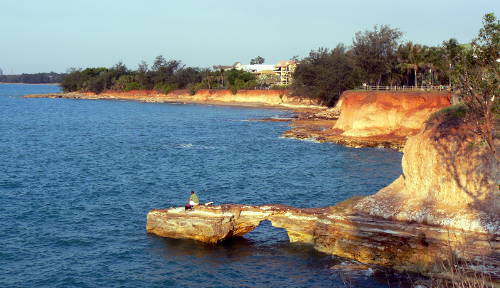 A fisherman finds solitude while people run, walk, jog, ride bicycles or skateboard along the clifftop.
Building your page.
These days people searching for information go straight to Google, or another search engine, and let computers do the hard yards finding what they need to know.
To have a full page of information published on this site, look for the most relevant listing above and simply start writing in the form provided on that directory. After we have checked it to ensure it is not offensive or irrelevant to Darwin, it will be added to the site as a stand-alone page within the directory you chose.
Create your own information page with up to 4 photos at no cost.
Don't copy from existing online information - write original text to help page ranking.
Each page is submitted to Google and other search engines. ( Page rank is determined by the search engines, Enjoy-Darwin.com has no direct control of ranking.)
If you already have a web site, your page can be linked to that site at no extra cost, increasing it's value and traffic.
Your page can be edited annually at no cost.
Simply select the best fit for your information.
Remember people will likely go Google search > keyword(s) > search results > web page
Google's advice to web writers includes the following;

Create a useful, information-rich site and write pages that clearly and accurately describe your content.
Think about the words users would type to find your pages and make sure that your site actually includes those words within it.
Editing your page
In order to maintain quality,  (you wouldn't believe the junk some people try to put on this site) a public login is not provided however we do encourage you to keep your information up to date.
To make a change simply return to the form you used originally and write a new page.
We will manually copy and paste the text from the new page over the old and change any images.
This process preserves the file name of your original page to ensure any bookmarks or links to your page will still work.
If you can't remember where you found the form you used, look at the very bottom of your page for this link;

Join in and write your own page! It's easy to do. How? Simply click here to return to (your category).

---
Return to Enjoy Darwin Home from Things to Do
---