Darwin Tide Charts and Tide tables
Local Darwin tide charts and tables are important in an area where ocean tides of up to 8m are amongst the highest tides in the world.

These photo's of Nightcliff Jetty and the adjacent boat ramp illustrate just how big the local tides are.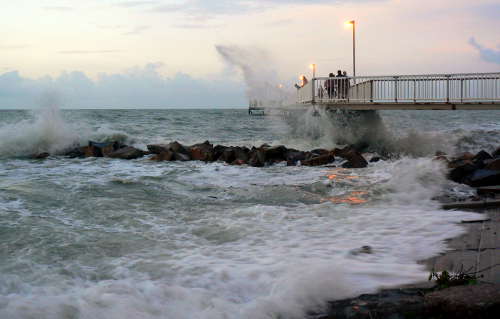 Waves wash over the boat ramp breakwater at high tide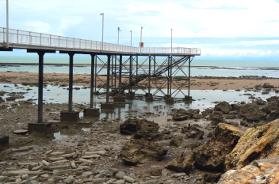 Nightcliff Jetty at low Tide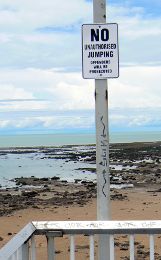 "No Unauthorized Jumping"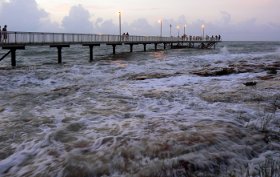 Nightcliff Jetty at High Tide
The low tide photos were taken at a tide of about 40cm, the high tide was about 7.9m - tides of 8 metres plus occurr from time to time.
For more information on tides around the Darwin area visit the Burea Of Meteorology (BoM) Tide Predictions Information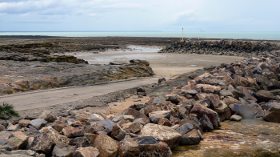 Nightcliff Boat Ramp at Low Tide
Obviously tides like this affect all sorts of things around Darwin. If you want to launch a boat here, it probably pays to know where the water will be.
More information on Darwin Boat Ramps - there are about half a dozen places to launch a small boat in the Darwin/Palmerston area.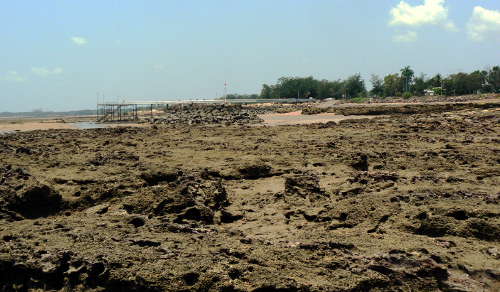 Looking back at the Jetty and Boat Ramp from tidal rocks
The Jetty area is a popular place with people coming to watch the tides and the sunset in a cool breeze.
There is a takeaway food van here on Saturday evening and it's hard to find a more pleasant place to spend a few hours.
THE Nightcliff Jetty and walkway gardens also provide the venue for the annual Seabreeze Festival