Darwin Boat Ramps
Several Darwin boat ramps are provided for public use and are popular places for fishermen and for others just enjoying the fresh sea breezes or fishing from the shore.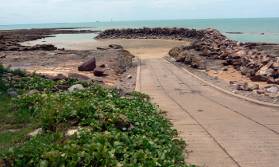 No water - Nightcliff ramp at low Tide
Perhaps the best known is the Nightcliff boat ramp and jetty, located along the cliffs at the end of Casuarina Drive.
On a Saturday afternoon this is a busy spot, with food caravans providing take-aways for the many who come to enjoy the setting sun, cool breezes and green parks and playgrounds.
More photos and Tide Information

Tidal Access: Above 2.5 metres.
Looking towards the creek sand bar.
Buffalo Creek boat ramp is further from the city, turn right past the Lee Point Caravan Park. A permanent kiosk supplies food, drinks and some fishing supplies for those using the ramp or just enjoying the wide tidal sandy beaches. 

Tidal Access: The creek is accessible at all tides, however about 4m or more is needed to cross the creek entrance.
New Palmerston Ramp, Pontoon and Jetty
A newly developed ramp area at Palmerston, just beside the Elizabeth River Bridge has a floating pontoon, a fishing jetty, new public toilets and plenty of parking space. About 9k from the Stuart Highway, it's worth the drive just for the scenery along the river. 

Tidal Access: All tides.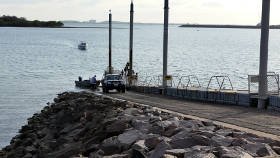 East Arm boat ramp
East Arm Ramp located at the end of Berrimah Road in the rapidly growing industrial East Arm port. Follow Berrimah Rd. to Casey St. just before the Port, on the left.

Tidal Access: Most tides.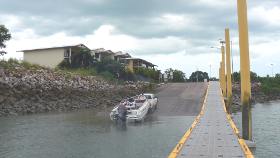 Modern housing overlooks Dinah Beach ramp
The Dinah Beach Ramp on Francis Bay Drive is close to many of the boating services in Darwin. From Tipperary Waters to the Fishermans Wharf and the Darwin Harbour precinct, Frances Bay is the main centre of boating commerce and facilities. 

Tidal Access: Above 2.5 metres.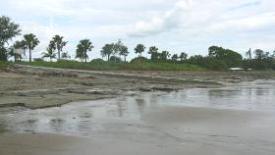 The resurfaced Vestys Beach ramp is dry....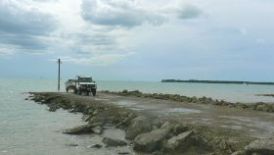 ...while a tinnie is launched at Doyles
Vesteys Beach Ramp and Doyles Ramp are located on the foreshores of Fannie Bay only about 500m apart. Access to Vestey's is via Atkins Drive, Doyles via Conacher St between the Darwin Museum and the Ski Club. 

Tidal Access: Vesty - above 3.5 metres, Doyles- above 2.5 metres.
Channel Island boat ramp
Channel Island  boat ramp is located right at the end of the road next to the Darwin Aquaculture Centre. 

This is one of the oldest ramps in Darwin and one of the trickiest to use.
Tidal Access: most tides

Members only at the DTBC and Darwin Sailing Club
Also sitting side by side on Fannie Bay, both the Darwin Trailor Boat Club and the Darwin Sailing Club have boat ramps, however these are only available to club members
---
Return from Darwin Boat Ramps to Enjoy Darwin Home.

---