Pictures of Adult Crocodiles in the NT.
Pictures of adult crocodiles in the Northern Territory collected by fishing guides, tour guides, tourists and local people as they live amongst one of the largest crocodile populations in the world.

Crocodile numbers have grown to the point where there is now a movement to allow limited hunting again. Hunting was banned in 1967 when crocodiles were on the verge of extinction in Australia after many years of extensive hunting for their valuable skins.

Crocodile farms are now able to supply the demand for crocodile products, allowing the wild animals to live with only one real enemy - other crocodiles!


Local newspapers often have stories on crocodiles in places they shouldn't be. The NT News front page story May 23 2007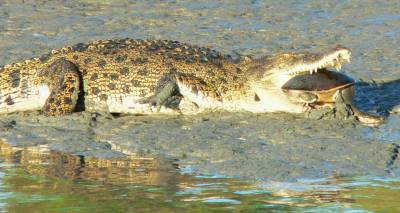 This photo of a croc with a turtle was sent in by Darwins Barra Base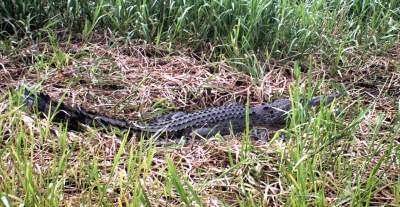 Marcel from Wipella Dreaming snapped this female guarding her nest.
A big croc takes a bait on the Adelaide River. Photo by Marcel on a tour with Goanna Eco Tours.

This tour leaves from Darwin early and takes you to the Adelaide River Cruise to see the famous jumping crocodiles, then on to waterfalls and swimming in Litchfield Park.
More crocodile pictures taken on the Spectacular Jumping Crocodile Cruise on the Adelaide River near Darwin.