Crocodile Pictures
from Adelaide River
Crocodile pictures taken on the Spectacular Jumping Crocodile Cruise on the Adelaide River near Darwin.
To join this cruise we travelled down the Arnhem Highway to the turn off to the Windows on the Wetlands tourist information centre a few k's before the Adelaide River.
This tourist centre sits on Beatrice Hill, one of the highest points on the river floodplain, and provides a good view of the wetlands area.

Past the visitors centre and along about 2K's of gravel road and we arrive at the cruise terminal on the bank of the Adelaide River.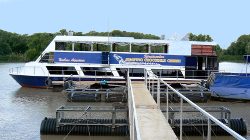 Northern Adventurer docked on Adelaide River
The Northern Adventurer runs from 1st April to 31st October while a smaller boat is used through the wet season.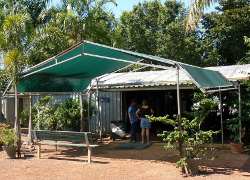 Spectacular Crocodile Cruise base camp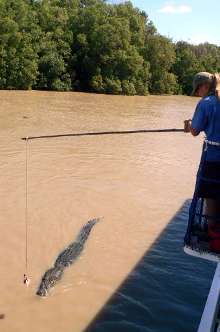 The Spectacular Jumping Crocodile cruise base is a modest shed beside the Adelaide River with basic facilities and plenty of hot water for a free cup of coffee or tea while you wait.
Almost as soon as we left the floating dock, a hungry crocodile approached the boat.

Although these are wild crocodiles, they have learnt there is a feed waiting when they sense the vibrations of the boats in the water.

This is a large male, probably about 4 metres long. No-one was keen to run a tape over him to find his exact size.

It's not hard to get some good crocodile pictures from the boat.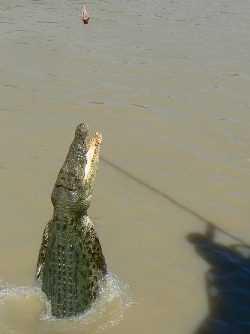 Another medium sized "saltie".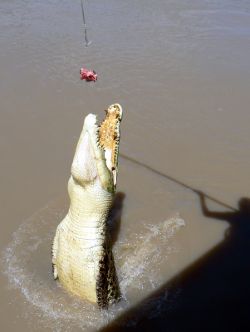 A saltwater crocodile leaps for meat.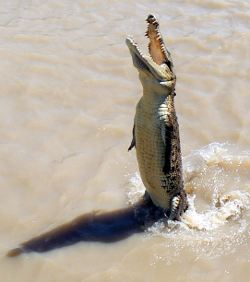 The crocodiles use the enourmous power in their tails to thrust themselves out of the water.

The hind legs of this smaller croc can clearly be seen.

This is a natural behaviour for crocs, and they have been seen to take birds from low hanging branches and even in flight over the water.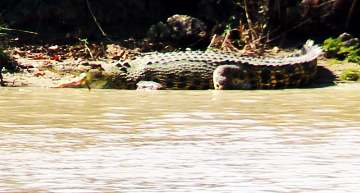 Basking Crocodile, Adelaide River
This large croc was photographed basking on the small amount of mud available at high tide.

The 7 metre tides in the river provide a lot of mudbank at low tide.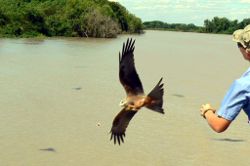 Black Kites over the river
After feeding several crocodiles, the boat turned and headed back, to be followed by a large flock of black kites, who obviously knew what the agenda was.

Our hostess threw small pieces of meat into the air and most were snatched by the kites before they hit the water.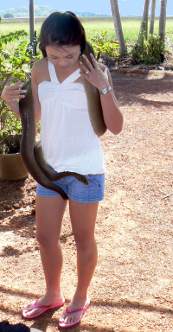 A friendly Green Python
The cruise base has a few of the local pythons, which were introduced to those who were game enough to handle a snake.
.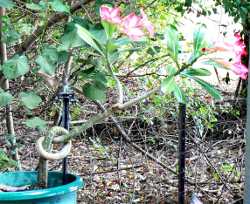 This knotted frangipani might have spent too much time with the snakes!
After the cruise we headed back towards Darwin, and turned off the highway to visit Fogg Dam where we spotted another crocodile basking in the sun among thousands of water birds.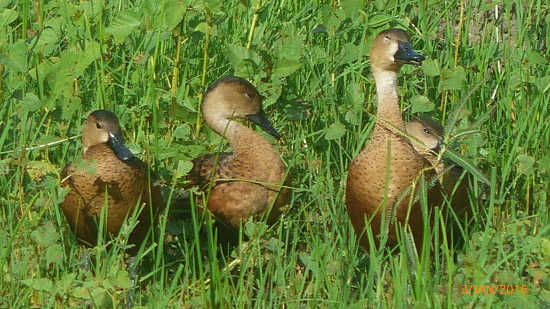 Ducks at Fogg Dam
---
Return from Crocodile Pictures to Enjoy Darwin Home.

---