Crocodile Farms

Crocodile farms have developed into an important commercial section of the Northern Territory economy, providing skins, meats, tourist products and tourist destinations in the Top End.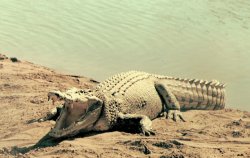 Basking Croc
Some of the croc farms have strong connections with the tourist industry providing destinations such as Crocosourus Cove and Crocodylus Park, while others concentrate on the farming aspects of the commercial crocodile industry.
Retail products can be purchased from various shops and markets around Darwin while the farms provide a source of wholesale and raw products.
Crocodile Farms

Crocodile Farms NT(Porosus Pty Ltd)
PO Box 86
PALMERSTON NT 0831
Manager: Marg Bynre
Owner: Mark Tarhair and Mick Burns
Production & Tourism
Ph: 08 8988 1450
Fax: 08 8988 2001 or 08 8988 2516
Mob: 0402 201 464
E-mail: crocfarm@octa4.net.au

Crocodylus Park
PO Box 530
KARAMA NT 0812
Manager: Grahame Webb, Giovannia Webb
Owner: Wildlife Management International Pty Ltd
Research & Tourism
Ph: 08 8922 4500 or 0408 817 943
Fax: 08 8947 0678
Mob: 0429 953 857(Giovanna)
E-mail: gwebb@wmi.com.au

Coolibah Crocodile Farm
PMB 149
KATHERINE NT 0851
Manager/Owner: Owen (Bluey) Pugh
Production & Little tourism
Ph: 08 8975 0856
Fax: 08 8975 0649
Mob: 040 8851 820
E-mail: coolcroc@bigpond.com

Elizabeth Valley Crocodile Farm
PO Box 994
HUMPTY DOO NT 0836
Manager/Owner: Joe Wilson
Hatchery
Ph: 08 8988 5760
Fax: 08 8988 1976
Mob: 0417 878 561
Garrangali Crocodile Farm
Gumatj Association Inc
PO Box 1220, Nhulunbuy NT 0881
Location: Drimmie Head Road, Nhulunbuy
Finance Officer: Annie Stucker
Hatchery at present
Ph: 08 8987 2399 or 08 8987 2942
Fax: 08 8987 1716 or 08 8987 2924
E-mail: gumatjassoc@bigpond.com

Janamba Crocodile Farm
PO Box 496
HUMPTY DOO NT 0836
Manager: Emanuel / Keith Cook
Owner: Cairns Crocodile Farm
Production only
Ph: 08 8988 1617
Fax: 08 8988 8006
Ph: 07 4056 3095
E-mail: hrm@australiancrocodile.com

Lagoon Crocodile Farm
GPO Box 4600
DARWIN NT 0801
Manager: Graig Moore
Owner: Michael Hannon
Production only
Lagoon Farm
Ph: 08 8984 3997
Fax: 08 8947 1514
Office Hannon
Ph: 08 8941 4566
Fax: 08 8941 4577
Mob: 0405 133 721
E-mail: lagoon-croc@bigpond.com
Jeanette@hannon.com.au

Retail Crocodile Products

Crocodile Mick's
Mindil Beach Markets
www.crocodilemick.com
crocmick@bigpond.com
phone on 08 89329473 -
Crocodylus Park
815 McMillans Rd
Berrimah, Darwin, NT 0828
(08) 8922 4500
Crocosaurus Cove
58 Mitchell St., right in the heart of Darwin CBD.
Tel: 61 8 8981 7522
info@crocosauruscove.com
Croc Stock and Barra
Mindil and Parap Markets
PO Box 92
Virginia, NT, 0841
Ph Aaron 0499 001 405
Delaneys Country & Western Store
2/20 Knuckley Street, Darwin. NT
P.O. Box 906, Darwin. NT. 0801
Phone: 08 8981 8144
Fax: 08 8981 6427
di CROCO Boutique
Shop 4, The Vic Complex
27 The Mall, Darwin NT 0800 Australia

Ph +61 8 8941 4470
M +61 411 474763
Fax +61 8 8941 4111

Email darwin@dicroco.com