Darwin Australia
Brinkin
Suburbs of Darwin Australia
Brinkin is a small suburb with some highly prized real estate perched on cliffs overlooking Casuarina Beach.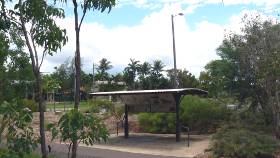 Brinkin houses can be seen behind a beach
bike track information shelter.
At the very end of Trower Road, Brinkin is a frizzbee throw from the beach, next door to Charles Darwin University and close to both Casuarina Shops and Darwin Hospital.
Brinkin was named after an Aboriginal tribe who lived in the area south of the Daly River mouth.
| Brinkin Street Names | Origin of Street Name |
| --- | --- |
| Airlie Circuit | Named after the steamer "Airlie" which operated in the Northern Territory during the 1890's and early 1900's. |
| Claymore Circuit | The ship "Claymore" under Captain Dalziel which was chartered by the Government's Resident in 1872 to take a survey party to the Roper River. |
| Dripstone Road | Nearby Dripstone Caves at casuarina were named on G W Goyder's early plans of Port Darwin in 1869 |
| Edinburgh Crescent | The "Edinburgh" was one of three ships which left England in August 1871 to lay cables between Java and Port Darwin. |
| Ellengowan Drive | The "Ellengowan" was a steamer that was wrecked in the Daly River the later recovered and used to carry mail to the Gulf ports of the Northern Territory |
| Hibernia Crescent | Another of the three cable laying ships which brought the Telegraph cables to Darwin |
| Kuru Court | The patrol vessel "Kuru" which served through WW11 and afterwards in Darwin. |
| Lakeside Drive | Named in anticipation of an artificial lake being built on nearby land. The proposal was abandoned after cyclone Tracy. |
| Omeo Street | The steamer "omeo" which served in Territory waters in the 1870's and brought many of the miners during the Pine Creek gold rush. |
| Trower Road | Horace Trower who was appointed Chief Lands Officer and Director of Lands for the Northern Territory during 1917-21 |