Darwin Australia
Capital of the Northern Territory
Some people arriving in Darwin Australia might find things a bit different if they come from abroad. This page is intended as a quick reference guide to help get orientated and provide some information on essential services.
For more detailed information, please see the Darwin Suburbs Guide
Darwin Australia - Waterfront Living
Darwin Time and Date;


Current Australian Time Zones
A quick Information List for Darwin Australia
Time zone; GMT +9.30
Dial Code; 61 8
Power; 220-240v 3pin
Roads; Left Hand Drive
Annual rainfall; 1,651mm (65 inches)
Emergency Phone numbers;
POLICE, AMBULANCE or FIRE: 000
Police: 131 444
Darwin Hospital: 8922 8888
NT Emergency Services: 8922 3630
Crisis Line: 8981 9227
Poisons Information: 13 1126
Health Advice 24/7: 1800 186026
AANT Road Service: 13 1111
Maritime Search & Rescue: 1800 641792
Interpreter Services: 1800 676254
NT Legal Aid Commission: 8999 3000
RSPCA: 8984 3795
Neighbourhood Watch NT: 8945 5645
Parliament House, Northern Territory, Australia
Darwin is the capital of the Northern Territory.
The nearest Australian city of comperable size is Townsville in Queensland more than 2500 Kilometres away. There are numerous Travel Books about Australia which can be a handy reference if you are travelling by road (and away from internet connections) to check on your next leg of the journey.
With an area of 1,346,200 km, the NT is the third largest of Australia's states and territories, yet has a population of only 230,00 people, give or take a few..
More than half that population lives in Darwin city or within a short distance in nearby Palmerston and Litchfield areas.
These areas have increased mainly due to the influence of the INPEX gas project, however by 2019 the construction phase has finished and people are leaving Darwin.
| | | |
| --- | --- | --- |
| Northern Territory Population | 2011 | 2016 |
| Darwin City | 77,261 | 85,914 |
| Palmerston | 31,098 | 36,933 |
| Litchfield Shire | 19,714 | 25,549 |
| Katherine | 9,967 | 10,575 |
| Tennant Creek | 3,555 | 2,991 |
| Alice Springs | 27,589 | 26,549 |
| Nhulunbuy | 4,940 | 3,088 |
| Tiwi Islands | 2,524 | 2,763 |
| Sub-Total (main centres) | 176,648 | 194,362 |
| Nothern Territory Total | 230,400 | 228,833 |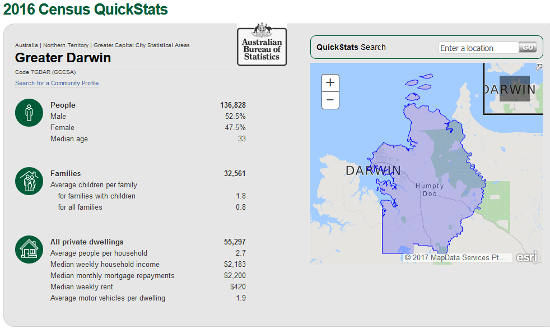 Weather
Darwin has three generally recognised seasons, the dry (April - August), the wet (December - March) and the build up (September - December). The local Jawoyn people actually break the year down further into six separate seasons however the distinctions are probably too subtle for most of us. This is a monsoonal tropical climate, tempered by the proximity of the sea.
Away from the coast temperatures become more extreme, the highest maximum recorded was 48.3 C at Finke in 1960 and the lowest minimum at Alice Springs was -7.5C in 1976.

Click here for more details and for todays weather and forecast
Tourism
The effect of this weather pattern is to divide the year into two very distinct and different times. The cooler, dry months from around May to the end of August sees an influx of tourists and Darwin becomes a very busy place. Caravan Parks fill, hotel beds are hard to find and most of the festivals and outdoor activities such as camping and swimming are at full pitch.
In comparison, the warmer, humid weather which begins in late September and October empties the caravan parks and a lot of activities wind down in anticipation of the coming wet season rains.
Search this site or the web for more info
Canberra
Sydney
Melbourne
Hobart
Adelaide
Brisbane
Perth
---
Return Home from Darwin Australia to Enjoy Darwin home.
---