Traveling to Darwin
In spite of its isolation, traveling to Darwin is easy, with excellent air, road, rail and harbour facilities available. Air travel is easiest, while road and rail trips can be an outback adventure.

It can be hard to understand just how big Australia is when traveling in fast jet aircraft.

With modern, all weather roads connecting the rest of Australia to Darwin, driving across outback Australia is a safe and comfortable adventure holiday.

Since 2004 The Ghan Train has also provided another way of seeing the outback in comfort and style.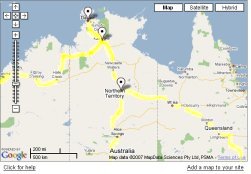 There is plenty of information available to help you decide which is best for you.
Have a look through these books, maps and travel journals to find more information, especially if you are considering traveling to Darwin by road.

Booking Darwin Accommodation

Travel by Air
Darwin has a relatively small, very modern airport close to the City. Both Taxis and a shuttle bus are available for the 20 minute drive to city accommodation.

Darwin Airport is a major hub for airlines, with many international services and connecting flights to all the other Australian State capitals.
CURRENT FLIGHT SCHEDULE
Current Darwin Time and Date;

Airfares can vary wildly depending on flight times, and cheap fares can often be found if you aren't too worried about when you fly.
Public holidays, school holidays and seasonal differences all play a part, so try to book early and search extensively all around the time you would like to travel.
I Want That Flight! is a travel search engine which searches your favourite travel and airline sites to show you who really is the cheapest. Free to use!
Search Qantas, Jetstar, Virgin Blue and Tiger Airline with Iwantthatflight

Travel by Road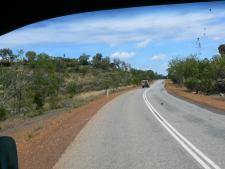 Typical view of Stuart Highway about 60k's south of Darwin
There are several options open for traveling to Darwin by road.

More information on the roads.
Drive your own car.Towing a caravan
Travel by Train

Book Online Here
Here there is only one option, the new Darwin to Alice Springs rail line which was opened in 2004. The Darwin railway Station is located on Berrimah Road at East Arm, near the new port.
Named the Ghan after the early Afghan camel trains, from Alice Springs the train continues south to Adelaide.

The trip to Adelaide takes 2 nights and travels nearly 3000 kilometres through the centre of Australia. This is an extremely popular rail journey. Read more about this famous Australian train here....

Travel by Ship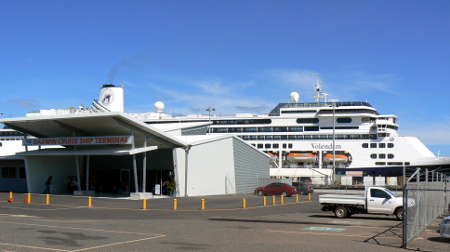 Cruise ship "Volendam" at the Cruise Ship Terminal
Darwin is a regular port of call for several cruise ship companies. They usually call in for a day or so and then continue on with most of their passengers still cruising the high seas, still it is an option if you need a break on the way here.


View Larger Map


---
Click here to return Home from Traveling to Darwin
---