Casuarina Shopping Centre
- biggest in the NT
While Casuarina Shopping Centre has the largest number of retail shops in the NT, Darwin also has retail centres at Hibiscus, Karama, Nightcliff, Rapid Creek, Northlakes, Palmerston with smaller retail centres in nearly every suburb.

New shopping malls have also been built in Palmerston and Coolalinga in the last couple of years.
Darwin business has been grouped into several areas by town planners with the light industrial businesses largely kept separate from the retail trade.

Nearly every suburb also has a small group of shops with a grocery store, a takeaway food store and maybe one or two other shops.


The following map and list of shopping centres is only intended as a general guide; a quick visit is the best way to discover what is available at each centre.
Opening hours vary, however the Coles and Woolworths supermarkets are open every day except Xmas day and Good Friday.
Coles opens at 6am at every location, closing at 10pm in Casuarina and 12pm at other locations.
The smaller shops usually also open 7 days, with most closing at 3pm on weekends.
Please check times if this is important because they can change without notice.

Casuarina Shopping Square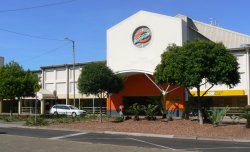 Casuarina Square, Bradshaw Terrace
Casuarina contains groups of shops, offices, banks and other buildings (see Casuarina map here) including the Casuarina Shopping Square.
With around 165 specialty shops, plus Coles, K-Mart, Big W, and Woolworths, this is the biggest retail complex in the NT. The eatery is a popular place on a hot day as people take advantage of the air conditioning and high quality restaurants and cafes.
The Casuarina Post Office and Cinema are inside the complex, however the banks are located in separate buildings nearby.
Casuarina Shopping Village
Located a short walk from Casuarina Shopping Square is Casuarina Shopping Village, a much smaller complex with the advantage of easier access and smaller crowds for those who prefer quiet shopping. Located nearby in their own buildings are several other retailers such as Bob Jane and Hungry Jacks . See a map and the full list here.
Coolalinga
Takeaways, K-Mart, Coles & more
An area which has grown rapidly in recent years, the Coolalinga shops provide for the outer area of Darwin which has a population of nearly 20,000 people living on rural properties. 
Both sides of the Stuart Highway have access roads, look for the entrances.
Darwin CBD
The original Darwin CBD area is centered around the Smith St Mall, with new Coles and Woolworths supermarkets only a stones throw away. Food malls, clothes, a newsagent, chemists and tourist orientated shops dominate this area. The Vic Hotel is one of several places where you can find an evening's entertainment, with the Darwin Cinema and the Darwin Entertainment Centre a few blocks away from the mall.
Fannie Bay and Parap
These are two of the oldest suburbs in Darwin, both with medium sized traditional street retailers. Fannie Bay is popular with visitors to East Point and the Race Course, while Parap is known for it's Sarturday morning Markets and Art Galleries.
Hibiscus Woolworths
Visit the Leanyer shops at Hibiscus Shoppingtown, not far from Casuarina, a much smaller centre and easier for a quick shopping trip than Casuarina. Around 20 retail shops including a chemist, newsagent, pet shop and the usual takeaways are available.
The Hibiscus Tavern and Dollies Restaurant are next door, providing a cool spot for an evening drink and meal..
Howard Springs

Howard Springs Shops, Post Office and Tavern
Turn off the Stuart Highway to Howard Springs Rd  and then turn right into Whitewood Road to find a small community a few k's from the Stuart Highway. Handy to the  Howard Springs recreation park.
Karama Shopping Plaza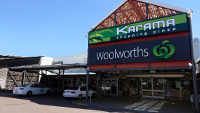 Karama Shopping Plaza
About the same size as Hibiscus, with a Woolworths supermarket and similar shops.
The Karama Library is located here, and petrol is available 24hrs at the caltex Service Station.
Malak Shops and MarketPlace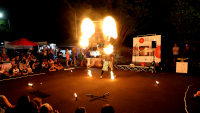 Entertaining at Malak Markets.
The Malak Shops  share the centre with Danila Dilba and Multicultural Council NT.
The large car parks at the rear are the site of the Saturday evening Malak Markets from late April to the end of October each year. 

Nightcliff Mall
The original shopping area in Nightcliff and site of the Sunday morning markets. Here you will find the Post Office, the Library and the Police Station, along with a wide selection of specialist retailers and takeaways. The successful establishment of a Bendigo Community Bank in 2008 points to the growing activity in this area

Nightcliff Aralia St Shops
The Aralia Street Shops are located just one block back from the busy Nightcliff bike track, next door to the Nightcliff High School and Primary School and provide one of Darwins best small shopping centre's.

Nightcliff Woolworths
The Nightcliff Shopping Centre on Dick Ward Drive has a large   Woolies store, newsagent, medical centre, chemist and more. Petrol and pizzas make this a convenient call on the way home from work.
Northlakes Shopping Centre
Another small-medium sized centre, the Northlakes retail shops are located next to the Northlakes Golf Course on Links Rd Marrara. Coles supermarket and several shops including a newsagent and takeaways.

Rapid Creek
Famous for it's Sunday Markets, Rapid Creek has a well stocked independent supermarket and several locally owned retail businesses. It is also a centre for community focused organisations such as The Greens Centre, Project 21 and others.

Palmerston Shopping District
The Palmerston retail landscape has changed with the opening of stage one of the new Gateway Shopping Centre and the smaller Bakewell Woolworths centre.
The original area has several medium centres located within a short walk of each other, including Palmerston Shopping Centre , the Oasis Shopping Village, a cinema, banks, petrol and a Toyota dealership. A few government offices and the Palmerston bus exchange makes this a busy area. The only Target store in Darwin is located here.
Sabine Road Shops

Located on a busy connection between Trower Rd and McMillans Road, this is a group of about 20 small businesses providing specialty retail and services.                          
A list of the Sabine Rd Shops.

View Darwin Northern Suburbs in a larger map
A new Community Bank® is NOW OPEN at 40 Progress Drive
(site of old NAB branch)
If you still can't find it, try the search box below.
---
Click here to return Home from Casuarina Shopping Centre

---