1974 Cyclone Tracy
In 1974 Cyclone Tracy destroyed the City of Darwin in north Australia in a few hours. See a map of the cyclone path, pictures, photos, sound recordings and salvaged objects in the Darwin Museum exibit.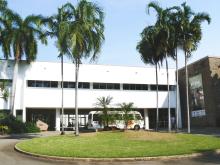 Museum & Art Gallery of the N.T.
---
It is hard for anyone who was not there at the time to imagine how it must have felt, however the Museum & Art Gallery of the Northern Territory has a permanent exhibit which is so realistic it's a bit frightening.
A sheet of galvanised iron still wrapped around a tree in 2012
When you see whole suburbs without a house standing, the magnitude of this disaster hits home.
In 1978 when I arrived in Darwin the cyclone damage was still very visible. The trees had hardly regrown at all, and the remains of houses were everywhere.
It was not uncommon to see debris stuck in trees, like the sheet of iron still wrapped around this tree in 2012.

---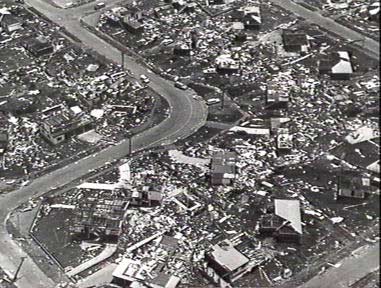 Damage caused by Cyclone Tracy
Wind speeds of 217 km/h registered at Darwin Airport before the equipment was itself blown away and there are estimates of maximum speeds of up to 300 km/h.

Seeing this destruction also brings home another matter - Darwin is a very new city simply because there was almost nothing left standing when Tracy had finished her work.
Photos from pre-cyclone Darwin
With so much destruction of both homes and infrastructure, the population of about 45,000 was reduced to about 10,000 by a mass evacuation of people to other Australian cities. This was organised by Major-General Alan Stretton, Director-General of the Natural Disasters Organisation and Minister for the Northern Territory, Rex Patterson.
Many of the families that left never returned and the rebuilding attracted people from many different places resulting in a young, diverse population who rebuilt the city.
If you are buying a house, setting up a business or simply thinking of moving to Darwin, it is important to understand this because of the effect this rebuilding has had on how this city functions.
After the cyclone building codes were upgraded dramatically to try to prevent such extensive damage next time a cyclone passed by. And the rebuilding was largely done by the NT Housing Commission using only a limited number of designs on a large scale. At one stage nearly 90% of homes in Darwin were owned by either Government Departments or large national companies such as banks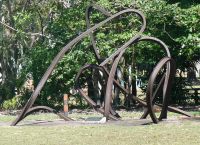 As the (enlarged) plaque says, these steel girders were twisted into these shapes by the force of the Tracy's winds. Set in concrete at the Casuarina College, they remind us of the strength of mother nature. Hopefully the stringent building codes now in place will prevent this happening again in Darwin.
Share your memories of Cyclone Tracy
There is still tremendous interest in the the Xmas event which changed a city and so many lives.

Were you here when Tracy visited? Were you evacuated, never to return, or were you one of the few who stayed to rebuild Darwin as we know it today?

Everyone you meet in Darwin slips the question into the conversation sooner or later, "Were you here...?" If you were, we'd love to read your experience.

See also Cyclone Tracy Stories



Read how Cyclone Tracy changed peoples lives ..
Click the headings to read their story

---
Return Home from Cyclone Tracy

---