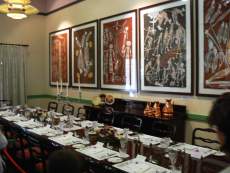 The contribution of aboriginal artists to the Northern Territory is acknowledged by this proud display of their work in the formal dining room at Government House.
Aboriginal Artists in the Northern Territory
Darwin Aboriginal Artists work with both traditional and modern techniques to produce dot paintings, x-ray styles, bark paintings, weaving craftwork and carving boomerangs, Didgeridoos and spears.
Australian Indigenous art is the oldest ongoing tradition of art in the world. Rock carvings and paintings have been dated more than 30,000 years.

Art has always been an important part of Aboriginal life, connecting past and present, the people and the land, and the supernatural and the natural.
There are many places where you can view original aboriginal art, including the Darwin Museum, the Darwin Library, several commercial art galleries and any of the local markets.

Leslie Nawirridj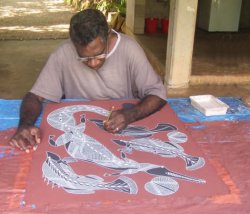 Leslie Nawirridj painting traditional x-ray art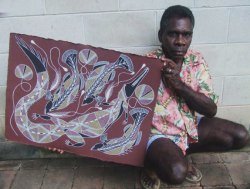 Leslie paints in the traditional way of his people, known as Kunwinjku people who come from the Liverpool River and Mann River regions of Western Arnhem Land in the Northern Territory of Australia.
His subjects are local creatures (birds, animals, fish and earth spirits) which inhabit the freshwater billabongs and escarpment of that country.
The paintings are famous for their "x-ray" style. Leslie has perfected the technique of cross-hatching (called rarrk). He uses the bristles found inside the stem of a reed to paint these fine lines.

Leslie's work is an excellent exhibition of the Kunwinjku Art tradition.
Natasha Lloyd Nee Parriman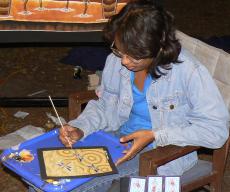 Natasha painting at Mindil Beach
Natasha uses a modern medium of acrylic paints on canvass to share the bush tucker and culture stories of her ancestor's, the Nyul Nyul, Yawuru, Jabirr Jabirr and Yamatji tribes of Western Australia.

These indigenous art designs used traditional ochre's and raw materials from the land for ceremonial pieces, hunting tools and artefacts such as boomerang, clapping sticks, sea shells and boab nuts. Read more about Natasha here.
Rhonda Champion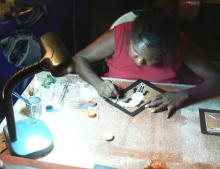 Rhonda at Mindil Beach markets
Rhonda has developed her own style of painting from watching her uncles and grandfathers paint during her early years in Bulman, a Central Arnhemland community, and also influenced by the styles of Oenpelli and Jabiru.

As head of her family, she has gone back to studying the cultural background of her Marlirri clan and the Emu Dreaming which stretches from Koiobidadah in North-East Arnhemland to Mt Catt.

Visit Rhonda painting at the Mindil Beach markets.
Aboriganal art and history of the Kamor people of Daly River
---
Return from Aboriginal Artists to Enjoy Darwin Home.
---