Darwin Map
Since March 2020 life as we know it has changed forever due to the infectious, deadly coronavirus COVID-19
Darwin is currently fighting to prevent the spread of this disease with almost every aspect of normal life affected.
As governments everywhere restrict everything from international travel to any local activities which allow the virus to spread,  only essential and necessary activities are permitted.
To read the latest information see the Secure NT website
Find your Australian destinations beginning with this Darwin Map from Google showing Kakadu. Litchfield Park, Katherine Gorge, Tiwi Islands and popular tourist attractions.
One of these maps might save time searching the general one below;
( The map might take a few seconds to load below)

Darwin is a long way from any other large cities. There are three other countries capitals closer than any of the State capitals in Australia.

There is only one road south from Darwin, which connects with the road to West Australia at Katherine, then with the road east to Mt. Isa just before Tennant Creek then heads south from there to Alice Springs and ultimately Adelaide.

These are all sealed roads which are open to traffic all year , except in the case of exceptional rain , which may cover roads for short periods and make them impassable.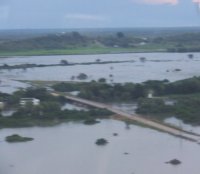 Adelaide River flood 2007
This view of the Arnhem Highway shows the results of heavy rain early in 2007. Photo courtesy of Darwins Barra Base from a helicopter used to get Barramundi fishermen to their favourite fishing spots when the roads are closed for a week or so.
---
Return from Darwin Map to Enjoy Darwin Home.
---