Darwin Dance Directory
Use the Darwin dance directory to locate the times and venues for dance clubs, nightclub dancing, dance classes and your favourite dance style.

Come and dance in Darwin to socialize and enjoy yourself.
There is a great variety of dancing in Darwin and the Northern Territory. You select what type of dancing you would enjoy.
Dance like the "Stars" by learning from one of the professional "Dance Studios" or just dance for pleasure by going along to one of the many groups who dance for enjoyment and fitness.
Many of the groups will assist and help you to learn if you are just new to dancing. Dancing is said to improve your health and help stimulate the brain so join with us and enjoy yourself and live longer.

Sections in this Directory:

Irish Dancers at Nightcliff
Seabreeze Festival

Your choice is as varied as you would like. Check the list below for regular weekly dances and special workshops.
Annual Balls and Social Dances page.
Add your Dance Club or Group here.
Dance Style
Workshops
&
Lessons
Socials /
Informal
Lessons
Adult Jazz, Hip Hop
Bachata
Ballet
Ballroom Sequence Dancing
Belly Dancing
Calisthenics
Capoeira
English Folk Dancing
Folk Dancing
Irish Dancing
Kizomba
Latin – Cha Cha, Rumba, Tango
Line Dancing
Modern Ballroom
Modern Jive
Pole Dancing
Rock & Roll
Rope Skipping
Salsa
Scottish Dancing
Swing
Tap, Stomp, Clogging, Hip Hop
Zumba
Use the search box below to find
your favourite dance.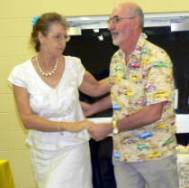 Bill and Cindy
Or if really keen go along to as many as you would enjoy, or all the groups if you have the time and the inclination.



Come along and you may be surprised as to whom you will meet.


| | |
| --- | --- |
| If you are another group that we are not aware of and would like your information to appear on this web page contact Vic O'Donnell here | Lee & Vic |