Darwin Art Galleries
The diverse cultural strength of the Top End of Australia is reflected in the Darwin Art Galleries and their displays of Aboriginal Art, Asian Art, fine art prints and crafts.
Artists from many different nations and Aboriginal Artists add to this cultural diversity.

While many display their work in the more formal settings of Darwin Art Galleries, some prefer to work and sell their art direct to the public in the markets around Darwin

The Museum and Art Gallery of the Northern Territory

A permanent display of Aboriginal and Torres Straight Arts is supplemented by additional displays from time to time.
The Telstra National Aboriginal & Torres Strait Islander Art Award opens at the Museum and Art Gallery of the Northern Territory each year  from around August  to November.
The Award was established in 1984 as the National Aboriginal Art Award by the Museum & Art Gallery of the Northern Territory. The aim of the Award is to recognise the important contribution made by Indigenous artists and to promote appreciation and understanding of the quality and diversity of Aboriginal and Torres Strait Islander art from regional and urban based Indigenous artists throughout Australia, working in traditional and contemporary media.
The Award is an important showcase for both established and emerging artists and has come to be regarded as the premier national event in the Australian Indigenous art calendar.

Parliament House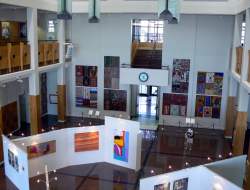 NT Parliament House Art Gallery
While not a formal Gallery, there are some excellent art works displayed here. Guided tours are available on Saturdays, bookings essential. Phone 89461425
The  Portrait of a Senior Territorian Art Award and Exhibition is normally on display in Parliament House in October  with the Award winners announced in October at a morning tea.
Catherine Miles won the 2019 award with her painting of Paul and his guide dog Elsa.
The 2018 Winner  was  Dr Al Strangeways with her portrait titled Hills: Kathleen Wallace and the Dancers.

The 2013 Winner  was Mr James Nasir with a self-portrait

The 2012 Winner was Sri Vout with her portrait of Rapid Creek Stallholder Yib Kohler
Territory Crafts is a community based organization which represents crafts people of the Northern Territory and also maintains a shop for local crafts at Parliament House.
This shop is opened Monday to Saturday 9.30am - 3.30pm 
See more original NT Art and Craft here..
Supreme Court
The  Annual RIGHTS ON SHOW exhibition is supported by Darwin Community Legal Service and usually opens in December at the Darwin Supreme Court foyer.
Aboriginal Bush Traders
Aboriginal Bush Traders is an initiative of Darwin Regional Indigenous Advancement & CDEP Inc (DRIACDEP) a not-for-profit Indigenous community organisation. Aboriginal Bush Traders provides support to Indigenous people wanting to engage in economic activities in a sustainable way.
Lyons Cottage
Cnr Knuckey St & The Esplanade
Ph 0448 329 933
Monday - Friday 9am - 5pm Saturday 9am-3pm and Sunday 9am-1pm
Aboriginal Fine Arts
Featuring authentic works from Arnhemland and Central Australia, including many by well known Aboriginal Artists.
Cnr Mitchell & Knuckey Streets,
Ph 8981 1315
open daily 9am-5pm

Alice Sundown Aboriginal Art
Displays a wide range of modern Aboriginal art from Central Australia.
Shop2/39 Knuckey Streets,
Ph 8941 7888
Open Thursday and Friday 11.00am until 5.00pm and Saturday 11.00am until 2.00pm

Art Warehouse
Displays a mix of contemporary art of Territory artists including paintings, photography, prints, jewellery, fibre art, sculptures, and more.
23 Daly St
Ph 8981 4778
open Mon-Fri 9am-5pm Sat 9am-4pm

Cross Cultural Art Exchange (CCAE)
Exhibits Indigenous Australian, Australian and Asia Pacific artists.
Unit2/2 Harriet Place
Ph 8941 2220
Tuesday- Friday 10.00am- 5.00pm
Saturday- 11pm - 4.00pm
Darwin Visual Arts Association Inc
Run by local artists to showcase local contemporary art.
Frog Hollow Centre for the Arts
56 Woods St
Ph 8981 9351

Wednesday – Friday: 12:00am – 5:00pm
Saturday: 10:00am – 3:00pm *During exhibitions
*The DVAA galleries are closed between exhibitions.
Didgeridoo Hut & Art Gallery
Learn the art of making a didgeridoo at this Gallery located 35 km south of Darwin. While I suppose it's technically not one of the Darwin Art Galleries, it's worth the short trip out of town.
Art and craft displays as well as information on bush tucker and medicine with cultural demonstrations by the aboriginal owners.
Arnhem Highway
Ph 8988 4457
open daily 7am - 7pm

Provenance Arts
With 10 rooms of paintings, sculptures and other works by various artists, this is the biggest commercial gallery in northern Australia.
55 Stuart Highway
Ph  (08) 6117 5515
open Mon-Sat 9am-5.30pm
Sun & Holidays 11am- 4pm
Jasmine Jan Art Studio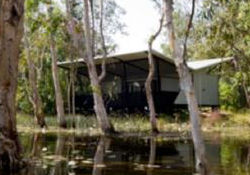 Jasmine Jan Bush Gallery and Studio
Located on the edge of a paperbark billabong on the outskirts of Humpty Doo, this is home to a self taught Territory Artist whose artwork features plants and animals of Northern Australia. Many years work at the Museum and the Wildlife Park has allowed her to bring a fresh detail to this unique flora and fauna.

Maningrida Arts & Culture
Bark paintings, sculptures, fibre art, books and limited edition prints presented by the community from the Maningrida region in North Central Arnhem Land.
1/32 Mitchell St Darwin
Ph 8981 4122
Open mon-Fri 9am-5pm
Saturday 9am-3pm
Mason Gallery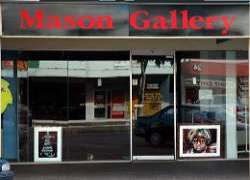 Aboriginal artwork from the Arnhem Land and Western Desert regions including John Mawurndjul, Dorothy Napangardi and Ronny Tjampitjinpa.

21 Cavenagh St Darwin
Ph 8981 9622
Open Mon - Friday 9am to 5pm
Sat & Sun 10am - 3 pm
or By appointment call - 0407 611 020
Mbantu Gallery
Specialising in the Aboriginal art from the Utopia region north east of Alice Springs
Shop 5 93 Mitchell St Darwin
Ph 8941 6611
Open Mon-Fri 9am-5pm Sat 9am-4pm

Northern Editions, Printmaking Studio and Gallery
One of the longest established Darwin Art Galleries, this studio produces etchings, screenprints, lithographs and linocuts by some of Australia's most celebrated indigenous artists.
Building 33 CDU Casuarina Campus
Ph 8946 6325
Open Mon-Fri 10am-5pm
Northern Centre for Contemporary Art (NCCA)
Established in 1990 as 24HR Art, NCCA is a non-profit association which receives grants from government and sponsorship from the private sector.
NCCA has a Territory wide brief. Each year the program consists of exhibitions, interdisciplinary and multimedia projects, emerging and established artists, curated and artist initiated projects, artist talks, themed forums and professional development workshops.
Vimy Lane, Parap Darwin, NT
tel + 61 8 8981 5368
Wed-Fri 10am-4pm
Sat 9am-2pm or by appointment
(closed on public holidays)




SIEGE-In the Trenches

Tobias Richardson passionately describes his sculptural installation in the display at Vimy Lane Parap.
Raft Artspace
Represents artists from Northern Australia and South East Asia and presents solo exhibitions and curates group exhibitions.

Vickers St Parap
Ph 8941 0810
Open Wed to Sat.



Original Aboriginal Art
Territory Colours
Featuring original paintings, jewellery, fine crafts, and glass creations by Territory Artists, including works by stained glass specialist Jon Firth.

46 Smith Street Mall,
Darwin City, NT
: Tel +61 (0) 8 8981 1803
Open 7 days
After hours by appointment.


Tiwi Art Network
If you need more than the Darwin Art Galleries can provide, take a one-day tour of the three art centres in the Tiwi Islands.
This can be arranged at their Darwin Office where a small range of artwork from Tiwi is displayed.
Shop 6, Air Raid Arcade 35 Cavenagh St.
Ph 8941 3593

---
Click here to return from Darwin Art Galleries to Enjoy Darwin Home

---