Darwin Outback Tours and Travel Information
A wide variety of Darwin Outback Tours are available, after all Darwin is the northern gateway to the Australian Outback, and a logical place to start any outback travel itinerary.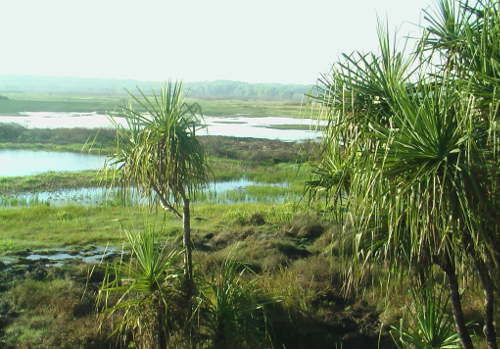 Outback Flood Plains
Major well known tourist destinations within a days travel of Darwin include;
Batchelor Township
Djukbinj National Park
Edith Falls
Katherine Gorge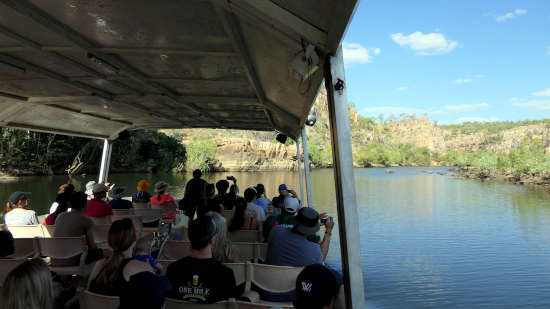 Nitmiluk (Katherine) Gorge tour boat heads up the river to the scenic gorge.
Check here for access information. Heavy wet season rainfall, crocodiles and road conditions can all prevent access to some areas from time to time. These destinations cover a wide range of conditions and distances, so please do your homework before deciding on your activities.
Many can be reached by using Tour Companies while others are off the beaten track and require a 4WD.
Swimming, bushwalking, fishing and just plain sightseeing are all on the menu. Read this account of one family's adventure in Litchfield Park
If you are lucky enough to be able to spend a few days here in this wilderness playground, read more about Litchfield Park accommodation here...
If you are just visiting, the professional Tours are no doubt the best option, and even for the locals they are worth considering for at least one trip through each area.
The main reason I say this is because of the knowledge and commentary that a good tour guide can give - it can make a place come alive. To see what I mean, try watching an hour of David Attenborough on TV with the sound turned off!
And on a drive yourself tour, you are probably looking in the wrong direction for the action as well.
To make the most of your visit to Kakadu spend a little time reading up on the places you intend to visit.
Do you provide a tour in the NT?
If you provide a tour anywhere in the NT tell our readers all about it here.
See the NT on Tour...
Click a tour headline to see all the details as provided by the tour operator.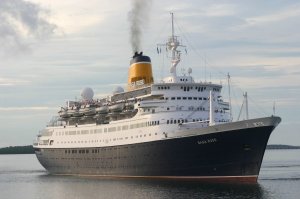 Saga Rose visits Darwin
Darwin is also an important port for the region, a destination for cruise ships, fishing fleets and pleasure craft of every variety.See more photos here.
A sea cat ferry crosses the habour every hour or so from Darwin to Mandorah and there are several local sunset harbour cruises. Read more here...
---
Click here to return from the Darwin Tourist page to Enjoy Darwin home.
---