Darwin's Pearl Jewellery
The finest South Sea Pearls for necklaces and jewellery are produced in the pristine waters of the NT. Jewellery made from these rare gems are the third major jewellery category after diamonds and gold.
Single Pearl Necklace
Giving a necklace or ear rings has always been a sure gift that will be treasured for it's romance and beauty.
Read here for more information on where to buy these gems of the sea.
This is now Australia's second largest aquacultural activity by gross value of production (ABARE 2003), with a history dating back to the early luggers and divers of the 1880's.
It has been an industry of booms and busts, finally stabalising as the expertise to farm the Pinctada maxima oyster developed.

Unlike majorica-pearls, Darwin's industry is able to produce these gems of the sea on a large scale using advanced farming methods and natural oysters.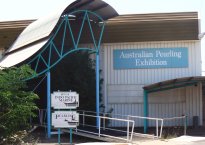 Australian Pearling Exhibition and Indo Pacific Marine
An Exhibition on Kitchener Drive near the Port Darwin Wharf Precinct has some excellent displays showcasing the history and products of the industry.
Tour Tub stopover
The first oyster farm was established in the Northern Territory in the 1960's by the Paspaley family company based in Darwin. They also maintain several farms in the Kimberly area in northern Western Australia. The largest production quota in the NT is owned by Arafura Pearls Holdings Ltd, a publicly listed company which also owns and operates the only hatchery in the NT located in the English Company Islands, north-east Arnhem Land.
While the beautiful South Sea Pearls are the most glamorous product of the industry, oyster shell is also a valuable item. The oysters have a natural life of up to 20 years and can grow to 220mm.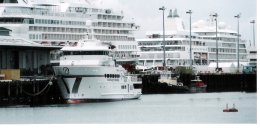 One of the Paspaley-pearl boats with two cruise liners in the background
---
Click here to return from Darwin's Pearl Industry to Enjoy Darwin Home.
---