Darwin Fish Feeding
Aquascene, the Darwin Fish Feeding tourist attraction at Doctors Gully, is  just one of several Darwin locations where wild fish are regularly fed by hand.
Aquascene
Located at the end of Doctor's Gully Rd, Aquascene is now a popular tourist attraction. The fish feeding began in the 1950's when the owner of the property began feeding some mullet which came in with the tides. Over the years the number and variety of fish increased, now there are hundreds of mullet, stingrays, milkfish, barramundi and others.
Feeding times depend on the tides, and change from day to day. It is important to check this information before going to see the fish feeding.
Entry costs; $15.00 for adults and $10.00 for children and seniors
Cullen Bay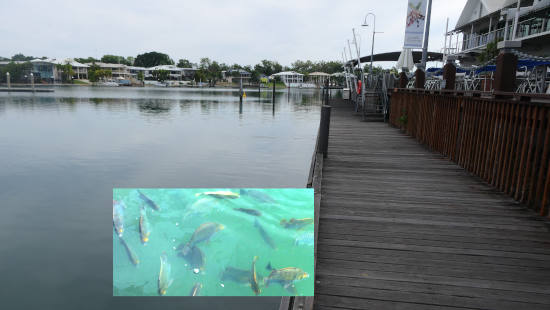 Cullen Bay Marina and Fish (insert)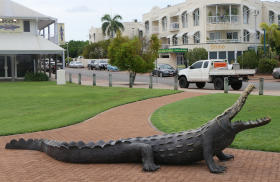 Crocodile Park Cullen Bay
The Cullen Bay Fish Feeding is located at Cullen Bay Marina opposite from the big steel crocodile statue. From Monday to Saturday at 9am and 4pm you can come down and grab some fish food from Anne and Graham, owners of the nearby gift shop, for just $1 a bag. Profits go towards an Australian children's charity, the Humpty Dumpty Foundation.

Darwin Wharf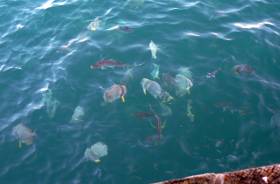 At the Darwin Wharf large moonfish, mullet and others are never far from the surface and are often thrown food by people enjoying the many restaurants which operate here.

Access to the wharf is free.

Howard Springs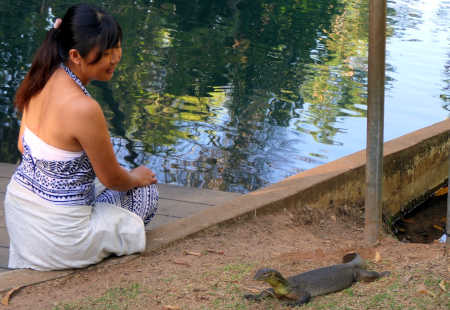 Visitor and water monitor at Howard Springs
Giant barramundi at Howard Springs nature park have also learned to come for a hand-held feed. The barra have to compete with turtles and birds for any scraps that might be offered.
Entry to Howard Springs is free, there is also a kiosk, BBQ facilities and a toddlers pool, making this a popular picnic destination.
Read more on Howard Springs here
Territory Wildlife Park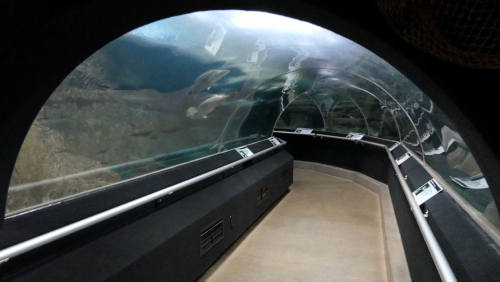 Walk Through Aquarium at Territory Wildlife Park
At 10am each day there a special keeper presentation at the Wildlife Park and visitors can try feeding the spitting archerfish and freshwater whiprays on the Oolloo Sandbar.
The Wildlife Park is about 45 minutes drive from Darwin at Berry Springs on the Cox Peninsular Rd. Check here for more details.

More information on local fish species.