Coolalinga
Coolalinga is a growing centre for the Outer Darwin Rural area. Modern shopping and banking facilities service Howard Springs, Humptdy Doo and Fred's Pass near the Stuart and Arnhem Highway junction.
Looking North along Stuart Highway
Retail shops stretch out alongside the Stuart Highway south of Palmerston.
A Woolworths Supermarket and the Coolalinga Community Bank®, along with Saturday Markets, reduce the need for rural residents to venture in to Palmerston or Darwin for day to day needs.
For several years this was the main part of Coolalinga, however in 2017 a new shopping complex featuring a large K Mart and Coles Store has changed the balance of retailing in the area.

Looking towards K Mart inside the new Coolalinga precinct.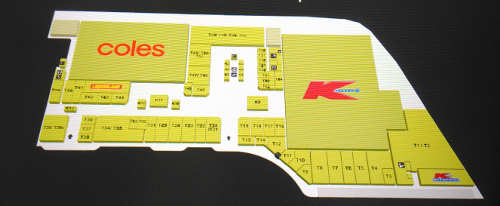 T2 iFitness
T3 Laundromat
T10 Ark Medical Centre
T11 Easy Loans
T15 Kerry's Body Therapy
T16 Prostyle Hair Studio
T17 The Rugby Shop
T19 Bits4bubs
T20 Infidelity Clothing
T22 Pink Hill Black
T32 Hair For Men Barbers
T33 Fixed to Fit
T39 The Meat House
T41 NTrails
T43 Desire
T44 Coolalinga Bakery
T45 Smakemart
T46 JD Designs Jewellery
T47 Beta Coolalinga Butchers
T49 Fresh Obsessions
T52 Mad Harrys
T57 I Love Kebabs
T53 Pranee's Thai Kitchen
T59 Silkroads Catering




T60 Happy Hearts
T61 The Harvest press
T62 Girl Boss
T63 La belle Candles & Essential Oils
T64 ProfessionalNAIL
K1 Curled
K3 Yin Cha & Crepes
K4 Curry Leaf
K5 Nuffin Break
K10 Cobbler Extra
K11 Yumi Sushi
K12 Mobile Phone Repair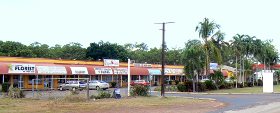 Looking South along the Stuart Highway
Many people find the rural lifestyle in the area more attractive than living in suburban Darwin. And with development in Darwin limited by a lack of suitable land, this can only mean ongoing growth for the district.
Planning by the NT Government to develop a new city At Weddell a few miles to the south will also ensure this area maintains it's growth as an important commercial hub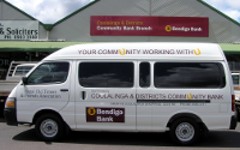 Coolalinga Community bank Bus
Coolalinga Community Bank® was opened in September 2006 to provide banking services to the district.
This Community Bank® has been able to provide significant support to local projects. Donations to community groups and schools and services such as the community bus have resulted from this partnership between local people and Bendigo and Adelaide Bank.
Coolalinga District
The Coolalinga District has developed quickly over the past few years with many new retail businesses as well as growing social clubs and other community organisations.

From Howard Springs to Berry Springs and Humpty Doo, businesses and other organisations are invited to tell the world about themselves here.

---
Return from Coolalinga to Enjoy Darwin Home.
---