Darwin Arts Crafts and Gifts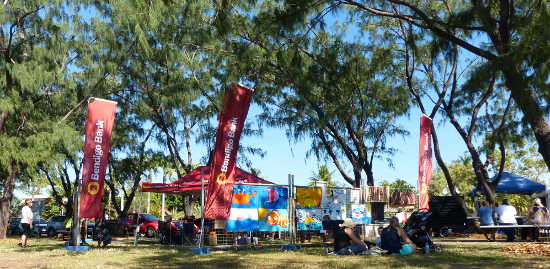 Nightcliff Community Bank Jetty Artspace under the trees at the Jetty
In the markets throughout Darwin Arts Crafts and Gifts are popular items, ranging from flower crafts, hand cut gem stones, jewelery, and stained glass to locally produced soaps and cosmetics.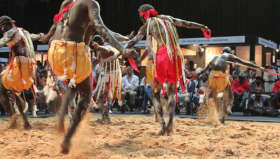 Traditional Dancers at DAAF
Many of these crafts are unique to the Darwin area, produced by local residents and Aboriginal Artists who have been located here for thousands of years. 
The Darwin Aboriginal Arts Fair
is held each year at the Convention Centre at Darwin Wharf 
Other crafts are produced by people who follow the weather, heading north for the balmy months of the dry season, then moving south as the wet season approaches in late September or October.

There are also many interesting crafts from South East Asian countries.
For information on original Territory Art & Craft described by the creators of the work themselves read more here...
NT artisans who would like to add an example of their work click here...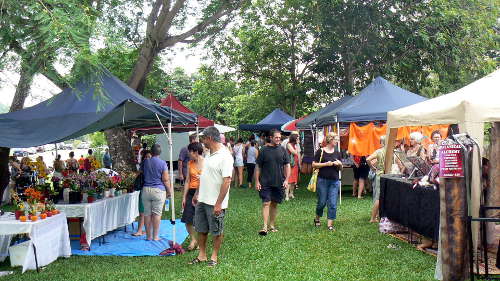 Cristmas craft stalls under the trees at the tactileARTS centre in the Darwin museum grounds
Mindil Beach Markets . Mindil Sunday Markets . Nightcliff Markets . Palmerston Markets
New Malak Marketplace will open on Saturday 29th April 2018 and run each Saturday until the end of October. Come to Malak on Saturday evenings for live music, local farm produce and international variety food.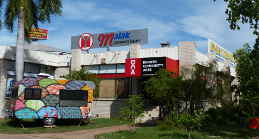 Moved to Coconut Grove March 2018
Darwin Community Arts has moved to Travers St., Coconut Grove and provides a wide variety of opportunities to engage in community art including theatre, visual arts, digital art, film production, sewing, music and more.
Call 8945 7347 for information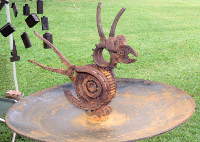 Scrap Metal Cockatoo

provides classes in a variety of mediums.
There is also studio space and gallery space for exhibitions available.

Located in the Darwin Museum grounds
Conacher St. Fannie Bay
Phone: (08) 8981 6616
Facsimile: (08) 8981 7175
Members of

also sell their creations in the

Shop
in Parliament House, open Monday to Saturday 9.30- 3.30M
Territory artists and crafts people.
If you live in the Territory here's an opportunity to tell everyone about your art work. We'd love to know what inspires you and how you developed your techniques.
Original Territory Art and Craft
Click below to see works by Territorians