Darwin Music
Website Directory
Join this music website directory for Darwin musicians if you are part of the music scene in Darwin.

Dance Bands
Music Teachers
DJ's
Country Music . . . 
Independent musicians, DJs, professionals, non-professionals, country music, jazz or anything else is welcome as long you provide a good resume (and preferably a photo) so people can decide if you suite the occasion.

Instruments Wanted Details here...
Whether you use the latest music software or play an ancient didjeredoo, who knows where your music might take you. After all we know even a beer carton drum and a good song can achieve a lot.
Write a free page about your music here.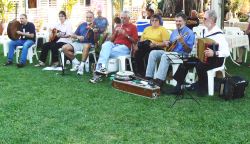 Local musicians providing entertainment for Government House Open Day
Join Darwin Music Directory here
Northern Territory Musicians, DJs, singers, bands and music teachers are welcome to post their details here.

Whether you want to play at local dances, clubs or other functions, or maybe just promote your music, this page will help you get the show on the road.

Tell Darwin all about your talents - music style, avaiability, experience, recordings, YouTube clips and anything else that describes your music. And don't forget to include contact details in the content you write.

Its easy and it's free for locals.
Darwin Musicians
Look through the links below to find the musicians you need.
Musicians & DJ's able to provide music for Darwin functions
are invited to add their details here
---
Click here to return home from Music Website Directory

---