Darwin Markets
Wandering through any of the Darwin Markets is an experience of the diversity and color of the Northern Territory's gateway to Asia.
More information on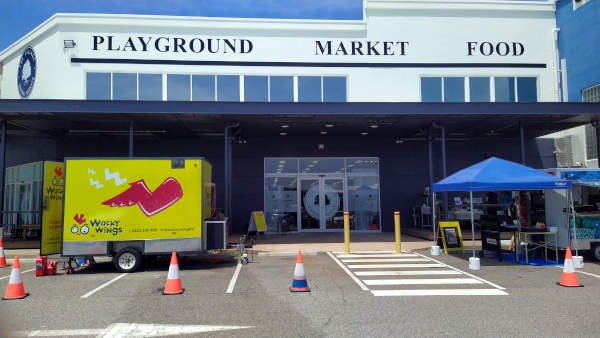 Central village Markets
Indoor and Air Conditioned
Central Village Markets
Now Closed 
www.facebook.com/VillageCentralMarkets/

Malak Evening Markets will run every Saturday from the first Saturday in May to the last Saturday in October each year.

Arts and Crafts, fresh farm produce and local organic products will all be available.
Enjoy a delicious meal and a chat with the neighbors while you check out these local stalls.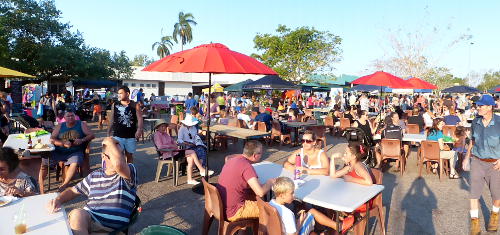 Evening markets at Malak
The Mindil Beach Sunset Markets are the biggest and most popular with tourists.

Located next to the Darwin Casino along Mindil Beach they operate through the dry season from late April To October.

Open from 5pm on Thursday evenings and from 4pm on Sunday afternoon. -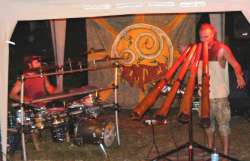 Music at Mindil Beach

The warm dry evenings and the great variety of food stalls, street theater and entertainment ensure an enjoyable tropical experience.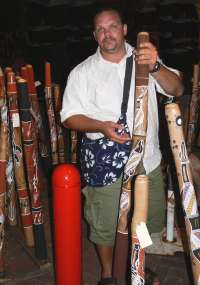 Fancy yourself as a Didgeridoo player? There are plenty available at the markets.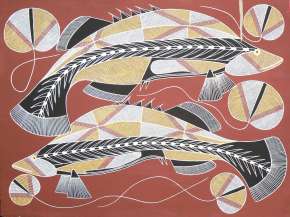 Traditional painting by Leslie Nawirridj
On Sunday morning there is a choice of two popular local markets, each with it's own flavor.

At Rapid Creek on Trower Road, many of the local people come for the best fresh vegetables and produce grown in the Darwin area. Lots of tropical fruits, exotic plants, palms and cacti, as well as comfortable tropical clothing is available.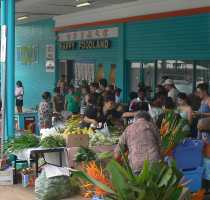 Rapid Creek Markets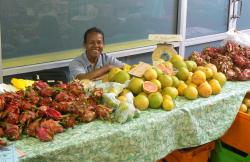 Garden Fresh Tropical Fruit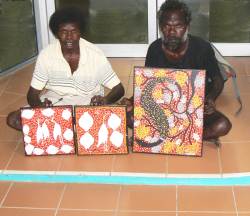 Artists at Rapid Creek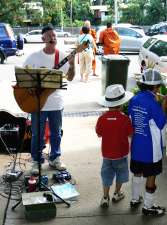 Entertaining at Rapid Creek
Peter Saunders takes some time off from providing music at weddings and celebrations to provide some entertainment at the Sunday markets in Rapid Creek.
Not far from Rapid Creek, the Nightcliff Markets provide a relaxing setting for a coffee or meal in a shaded outdoor area with local musicians providing entertainment.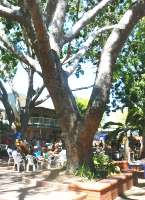 Huge trees provide shade at Nightcliff Markets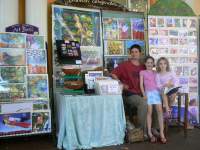 Alison says "Life here constantly inspires me to record my impressions in art."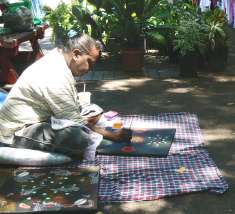 Traditional dot paintings are part of a culture thousands of years old.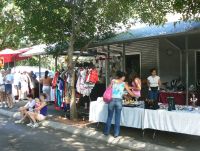 On Saturday morning it's time for the Parap Village Market to come alive with a mixture of food stalls, fruit and vegetable vendors and craft stalls.
Set amongst the many small businesses in the Parap Shopping Village with plenty of local character.Three local art galleries and an art supply store also help provide plenty of interest for visitors to the Parap markets.
Just 20k's from Darwin, the new town of Palmerston now has it own Palmerston Market . Held on Friday evenings, these markets reflect the vibrancy of a growing community.

Palmerston Markets on a Friday evening.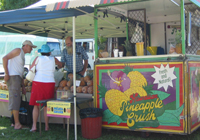 Pineapple crush at a Qld market.
And if you're heading to North Queensland anytime, you'll love the tropical markets in Port Douglas, Cairns and other northern towns.