Darwin Museums and Historical Sites
Visiting the Darwin Museums, memorials of WW11, a B52 bomber and historical displays of Cyclone Tracy is an interesting journey into the history of Australia.
Some of these places are formal museums, while others are listed because they are places which have played a predominant part in the building of Darwin and the northern areas of Australia.
---
Museum & Art Gallery of the Northern Territory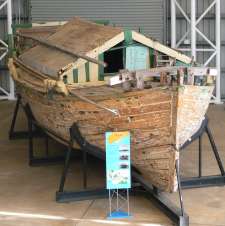 Refugee Boat at Maritime Museum
This is the biggest museum in Darwin, displaying items of aboriginal history and their connections with Asian seafarers, through to recent history and modern development. Includes a realistic exhibition of the effects of cyclone Tracy.

The Maritime Museum is also located here, with exhibitions of Southeast Asian and Oceanic art and maritime archaeology.
Admission Free
Monday to Friday 10am - 4pm.
Weekends and Public Holidays 10am - 4pm.
Closed: Chirstmas Day, Boxing Day, New Years Day & Good Friday
Conacher St, Bullocky Point Darwin
Phone: 08 8999 8264
Fax: 08 8999 8289

Chinese Temple and Museum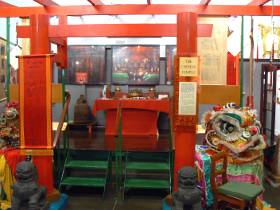 Chinese Museum Display
The Museum is located in the Temple grounds, inside the Chung Wah Society Hall and should not be confused with the Chinese Temple.
A Chinese Temple has been located on this site since 1887. The current Temple was opened in 1978 after Cyclone Tracy destroyed the previous one in 1974.
The museum displays photos and articles documenting Chinese work and achievements since they first arrived as indentured labourers in 1874. Chinese people have played an important role in the history of the Northern Territory
At 25 Woods St, it is only a five minute walk from Smith St Mall, the museum is open from 3rd  March to 1st November 2015, 10.00am to 2.00pm, Tuesday to Sunday
Closed Mondays and Public Holidays
Entrance Fees Apply; Adults $4, Child $2
Family $10
Seniors $3
Contact/Group Bookings for the Museum is at museum@chungwahnt.asn.au

East Point Military Museum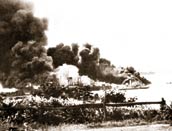 Bombing Darwin Harbour WW11
Located on the site of WW11 fortifications against invasion, this is not a large museum however it has some unique displays of military activity around Darwin during the war and conveys some of the real feelings of anxiety felt during those times when invasion seemed a real possibility.
Alec Fong Lim Drive
East Point
1st November - 31st March
10.00am to 3.30pm
No eftpos sales after 2.30pm
1st April- 31st October
9.30am to 5.00pm
No eftpos sales after 4.00pm
Adults (16 years +): $18.00
Children (5 - 15 years): $8.00
Children(under 5 years): FREE
NT Seniors (65 years +): $8.00
Interstate/International Seniors (65 years +): $13.00
Family Pass (2 adults & 2 children): $40.00
Australian Pearling Exhibition
The history of pearling is an important part Australia's history as it provided an industry in areas which seemed fairly barren to early European settlers. The modern cultured pearl industry based in Darwin and Broome still supplies a world wide market for pearls and pearl shell.

Admission charges: Adults $6.60, Children $3.30
Opening hours: 10am to 5pm daily, closed Christmas Day, Boxing Day, New Years Day and Good Friday.
World War II Oil Storage Tunnels
Located beneath the cliffs of Darwin city, these tunnels were built during WWII by the Civil Construction Corps. Reopened in 1992 to commemorate the 50th Anniversary of the Bombing of Darwin and includes a photographic display of Darwin during WWII.
Access is from the lower level Kitchener Drive after a short walk from the city past Parliment House and Survivors Lookout.

Adults - $6 Children - $3
(FREE with Tour Tub ticket)
Opening Hours
May to September:
Monday - Sunday 9 am - 4 pm
October to April:
Tuesday - Sunday and public holidays 9 am - 1 pm
TUNNELS ARE CLOSED FROM DECEMBER TO FEBRUARY
The Australian Aviation Heritage Centre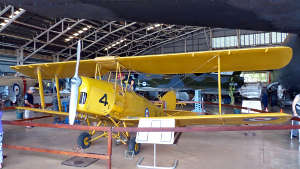 Museum Biplane
Displays the city's aviation history with exhibits that include a B52 bomber, a B25 Mitchell bomber, a Spitfire replica, a Sabre jet and other aircraft.
Open Daily 9:00am - 5:00pm.
Closed Good Friday and Christmas Day.
557 Stuart Highway
Winnellie NT (Opposite Darwin Showgrounds)
QANTAS Empire Airways Ltd Hangar
This is a fascinating part of QANTAS Australian history sitting out of the limelight in Parap at the site of the original Ross Smith Airport. In use as a storage depot until 1980, it is now the home of the Motor Vehicle Enthusiasts Club and the two combine to provide a unique view of NT history.
Open Daily 9:00am - 5:00pm.
Closed Good Friday and Christmas Day. Admission Free
Cnr Lampe & McDonald St.
Parap NT

Fannie Bay Gaol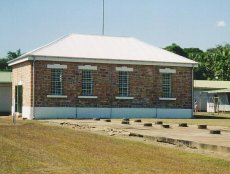 Inside Fannie Bay Gaol
One of the Darwin museums that was an original part of real life in the Top End until it's use was discontinued in 1979. Built in 1883 it conveys the atmosphere of early settlement to the visitor, with it's gallows and small cells.

In about 1918, part of the original Gaol land was resumed to build the town's airstrip which is today Ross Smith Avenue.
Admission
Open:10am to 3:00pm Wednesday to Sunday
Closed: Christmas Day, Boxing Day, New Years Day and Good Friday.
East Point Road,
Fannie Bay.

Outer Darwin Museums
There are many other local museums around the NT which are well worth a visit. Especially if you are visiting an area anyway, it would be a pity to miss the local history, so keep these in mind when travelling around the Territory.
Adelaide River railway museum precinct.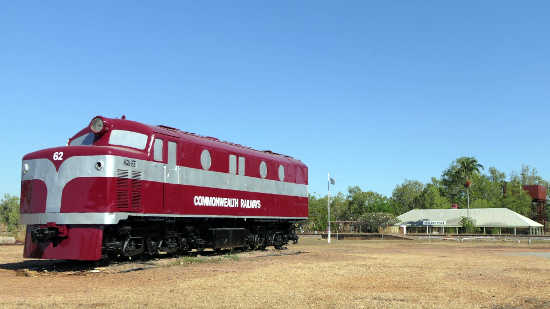 Locomotive at the Adelaide River Railway Museum & the original Station
Located at the old Adelaide River railway station, this museum highlights three particularly important events in the history of the NT; the laying of the original telegraph line, the first railway in the NT and the extensive military activity based in Adelaide River during the Second World War.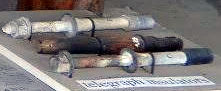 Telegraph line insulators
The museum is open during the dry season ( April til late September) from 8am to 3pm
In these days of instant messaging, it is a little hard to understand just how big an impact the original telegraph line connecting Australia to London must have made.
---
Click here to return Home from Darwin Museums
---