Best Darwin Fishing Places
Find the best Darwin Fishing times and places to catch Barramundi or Saratoga and saltwater fish - Jewfish, Coral Trout, Golden Snapper.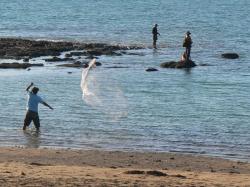 Fishing on a Darwin Beach
The coastal waters, rivers and billabongs of the Darwin region have a reputation for some of the best fishing in Australia, with the Barramundi the most sought after prize. Barra over a metre in length are frequently caught and sometimes fish of 140cm or more are taken in these waters.
More info on Barra Fishing in particular.

Another common fish is the saratoga, which grows to a metre and is a good fighting sportfish.
Check here for more information on local fish species and limits.
The best way to fish is from a boat, and preferably with a guide who knows the area well.

There are some great fishing reefs in and around the harbour, many of them formed by old ships which have been deliberately sunk to provide fish habitats.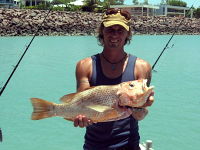 Even a half-day Darwin harbour fishing tour can produce a good catch.
For those wanting more adventure there are week long fishing safaris to famous places like Shady Camp, the Peron Islands, Finniss River and Crab Claw Island.

However there are some places around Darwin where even a landlubber can catch good fish.
Tides here are big, with the occasional 8m tide, and frequent tides of 6 -7 metres. This has a big effect on Darwin fishing, so check for tide levels and times before you plan any fishing.
There are plenty of friendly Darwin Fishing Clubs you can contact for more local information and some great social activities.
There are also some great fishing competitions organised annually in the rivers and coastal waters of the NT.
And check here for specialised fishing accommodation in the Top End.
Darwin Wharf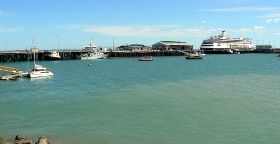 Darwin Wharf
Stokes Hill Wharf is very popular place to caste a line, especially because of the excellent food available from the many stalls in the eatery.
Drinks are also available, so whether you catch your fish from the sea or a frying pan you are guaranteed success.
Elizabeth River Bridge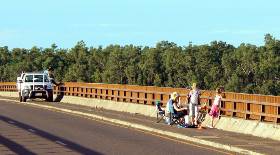 Fishing from Bridge
A short drive from Palmerston, the Elizabeth River Bridge gives a spectacular view of Darwin Harbour and good fishing when the tides are right.

This view from the nearby boat ramp captures the bridge in the setting sunlight and a high tide. The bridge has a wide, raised footpath which is used by fishers - I'm not sure it's technically legal, but it's a well used "footpath".
A fishing jetty next to the boat ramp provides a good spot to cast a line without going onto the main road bridge.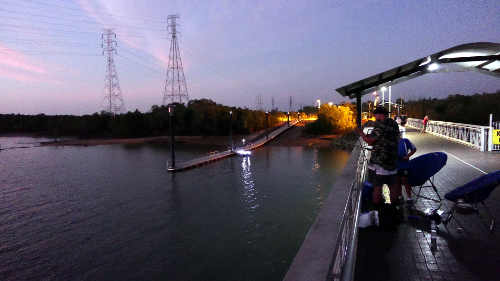 Fishing from the jetty at the Palmerston boar ramp.
Channel Island Bridge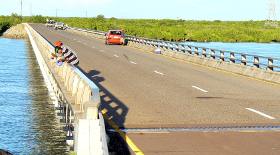 Channel Island Bridge
Channel Island Bridge is another fishing bridge, located about another 10 minutes drive from the Elizabeth River Bridge, just before the Channel Island power station.
This bridge lacks the wide footpath to fish from, but there's not much traffic on the weekend as the road only goes a few hundred yards further than the bridge to the power station.

East Point Rocks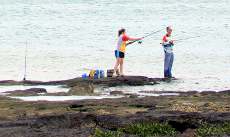 These rocks at East Point can provide good fishing at the right tide times.

The area is a marine sancturary, limiting fishing to rod & reel or handline.
Fish under 30cm must be released and corals, crabs, shells and sea urchins are protected.

Buffalo Creek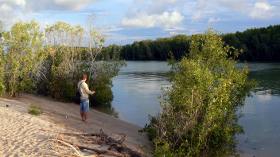 Buffalo Creek
Buffalo Creek next to the boat ramp is a popular spot. On a good tide there is plenty of water and it can be good for barramundi.
Turn right off Lee Point Road just after the Caravan Park and follow the road for about 3k's to the boat ramp. Food, drinks and bait is available there at a small kiosk.
Nightcliff Jetty

Nightcliff Jetty
The jetty is another popular spot, which also has nearby take away food stalls operating on a Saturday evening.
Many local people come here to enjoy a cool sea breeze and a beautiful view of the red sandstone cliffs and setting sun.
Rapid Creek Footbridge

Rapid Creek Footbridge at a low tide.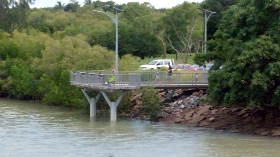 Wheelchair Fishing Platform
With the right tide this can be a good fishing spot.
The Peter Mahony platform close to the bridge provides wheelchair  access  to fishing, which is best at a  medium to high tide.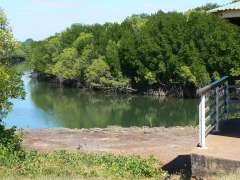 Rapid Creek
The water surges up and down the creek as the tides change, washing nutrients out of the mangroves and providing a natural bonanza for hungry fish and crabs.
A little further up the creek is another quiet spot which can yield some good fish when the tide is right and the fish are biting.

Northern Territory waterways are home to both saltwater and freshwater crocodiles. Take care when fishing.
Crocodiles are attracted to boat ramps and other areas popular for launching boats because, unfortunately, many people leave their waste products behind.
Make sure you do NOT do this;
clean fish on or near the water's edge;
tether fish to the boat to keep them alive;
wade or stand in water for longer than absolutely necessary;
use a low-sitting boat or canoe in waters inhabited by saltwater crocodiles;
let dogs in or near the water;camp at the water's edge;
 or provoke a crocodile in any way

Are you the best fisherman in Darwin?

We all know every fisherman has a good yarn about the one that got away..."you should have seen how it dragged the boat along..."

But..can you actually catch those monster barra everyone talks about?

Of course a nice photo will help us believe you're the best.

And if you have any tips about how and where, that would be terrific. Even if you don't want to tell secrets about where these fish hide, maybe you can pass on some general info which will help the less experienced have some fun with a rod & reel.
Read these absolutely true, honest & accurate fishy yarns from the best fishermen ;)
Click below to see contributions from other visitors to this page...

---
Click here to return Home from Darwin Fishing Places
---