Darwin City
Central Business District

City skyline seen from Charles Darwin National Park
The Darwin City Central Business District, centre of business, government and tourism in the Northern Territory.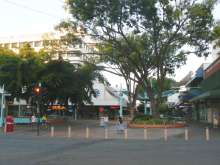 The Darwin Mall before a recent upgrade.
The Smith St Mall is the very centre of the Darwin CBD, with new shopping centres a stone's throw away. Surrounded by hotels, government offices and blocks of units, the mall was built in the 1970's in response to the competition from purpose built air-conditioned shopping centres in the suburbs.

Walk from the City Mall to the Harbour via the skywalk and glass lifts.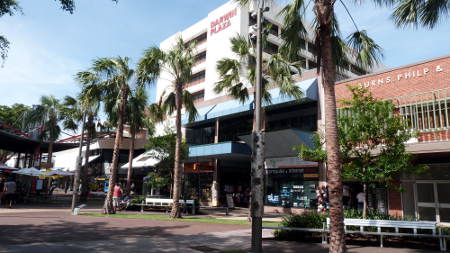 Now palm trees give the Mall a more tropical appearance.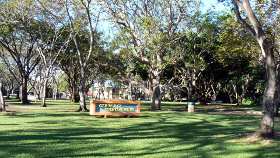 Civic Square Darwin
The Darwin Council offices, the Parliament of the Northern Territory and most of the Commonwealth Government departments are within an easy walk of the mall.

Also in the CBD are the Supreme Court, the Magistrates Court and Government House the official residence of the Administrator of the Northern Territory. This is where the original town was established and for many years was nearly all there was. Recently the skyline has changed beyond recognition with continual growth the norm as new apartment buildings, hotels and office blocks have been added.

Read more quick facts on Darwin here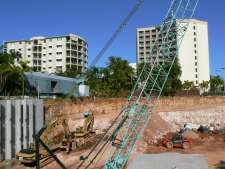 Esplanade Daly St Development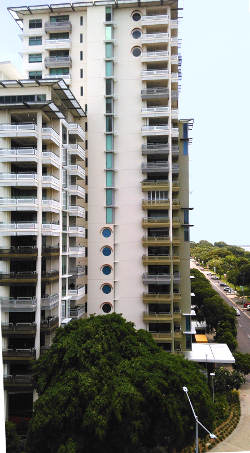 Esplanade Daly St corner 2017
This is a sight Darwin people have become used to over the years as foundations go down for ever bigger buildings around the original Darwin area.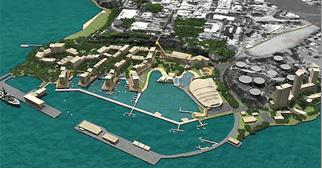 Proposed new Port Darwin facilities
The NT Government has proposed a major redevelopment of the old port facilities. To be built over a period of 15 years, the Darwin Waterfront  includes a new Darwin cruise ship terminal, two new hotels and a wave pool for safe swimming.

This will redefine Darwin as the northern gateway to Australia, adding an exciting new dimension to the city and growing tourism, small business and recreational facilities for the next generation.
The new Darwin Convention Centre opened in 2008 and has already attracted a large number of conventions and conferences which will bring people from all over Australia.

Darwin on map of Australia

View Larger Map








Essential Information for Darwin Australia
---
Click here to return Home from Darwin City
---