Darwin cruises, charters and ferries.
Spoil yourself with one of the Darwin cruises which are available for charter, sunset cruises, BBQ lunches or a day trip to Mandorah.

The Mandorah sea-cat ferry departs from Cullen Bay a dozen times each day for a round trip to the other side of the harbour and is used by both commuters and day trippers.
It's a relatively cheap way of having a great day out, with meals and a swimming pool available at the Mandorah Beach Hotel and plenty of white sandy beach to enjoy.

Read how my friend Bill recently rode from his home to the ferry and took his bike to enjoy a day trip to Mandorah.
Cullen Bay is a relatively new area with a Marina which is home to many charter boats and a range of restaurants, cafes and bars which makes it a popular evening destination. And if that is not enough, Darwin Harbour Cruises can provide you with a sunset cruise on one of their three ships, or take one of the cruises available on one of the City of Darwin Cruises.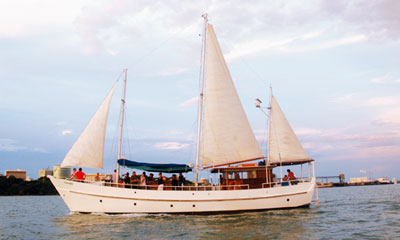 The 'Tumlaren' was built in Lavender Bay, Sydney NSW in 1981. She was built by well known Sydney boat builder, Bob Gordon and her design was based on the scaled down version of Dick Smith's vessel that was taken to Antarctica, also designed by Bob Gordon.
'Anniki' spent its first six months collecting trochus shells for the button industry, now it is listed on the Australian National Maritime Museum's historic maritime register. After a complete makeover, Anniki began providing sunset cruises on Darwin Harbour in 2003.
Now it has been rerigged again to be used as a mission boat in the movie 'Australia'.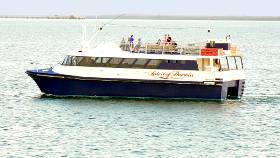 Spirit of Darwin
Spirit of Darwin is a large cruise boat which takes cruises on Darwin Harbour two or three times daily and can also be chartered for functions such as weddings.
The lower deck can accommodate up to 100 people in air conditioned comfort with catering for group functions.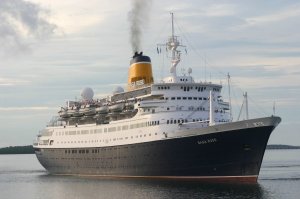 The Saga Rose is one of several cruise ships which visit Darwin regularly.