Darwin Railway Club
The Darwin Railway Club at Parap is one of Darwin's oldest social clubs. Unfortunately the building suffered extensive fire damage in early 2009 and is currently being rebuilt.

Originally opened as a club for railway workers, the venue at Somerville Gardens, Parap has been used by music clubs, dance groups and other community organisations over the years.
Good news is that the Parap Railway Club has decided to rebuild/restore the old Club rather than move elsewhere. The Chief Minister has given his support and it is likely that restoring this iconic place will attract grants to top up the insurance payout. The carpet has been removed, the Club advises that they now have the largest dance floor in Darwin. The original parquetry floor can be easily refinished. If air conditioning is included as part or the upgrade it could become part of the dance scene once again.
The venue could be functioning in 6 to 12 weeks. If you are interested in volunteering architectural, trade, labour or other skills please email the Club at secretary@railwayexcpress.org or 04 8810 5044
Volunteers had repainted the Club just before the fire occurred!
More news on the rebuilding project will be listed here as it comes to hand.

New Look Clubroom with renovations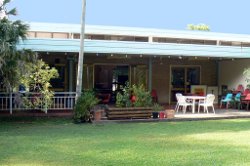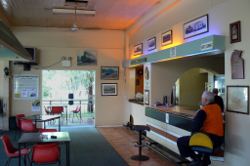 Before the fire in 2009