Since March 2020 life as we know it has changed forever due to the coronavirus COVID-19

Local businesses are adjusting to the 'New Normal', please check with the advertised contact for any updates or changes to an advertised service.
1995 SLWB Toyota Hiace Commuter Campervan
by Dan
(Broome/Darwin)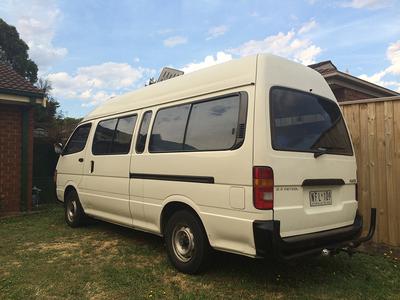 You are looking at a reliable and recently renovated 1995 Toyota Hiace Commuter SLWB Campervan which has brought us safely and comfortably from Melbourne to Broome without issue.

Hard to find in this fantastic condition, Hiace Commuters give you more space and functionality than other vans on the market. They are well known for their reliability and extremely long engine life, making them easy to fix, and parts easy to come by. It's common to see them with over 600,000kms on clock. TOYOTAS ARE THE BEST CHOICE!

The van benefits from having regular servicing throughout its life and we have its full history as well as servicing information. We are currently the 3rd owners.


MECHANICALLY:

- RECONDITIONED ENGINE @ 330,000km's
- RECONDITIONED CLUTCH
- RECONDITIONED GEARBOX
- service history (regularly serviced)
- 3 OWNERS (originally used for government patient transport ambulance so high km's but well maintained, second owners were 'Grey Nomads' who looked after it impeccably for 12 years, then us on our little adventure over the last 6 months)
- 2 SERVICES within the last 6 months including oil changes/filters/pressure tests/spark plugs (most recent in May 2014, with receipt)
- 2 NEW front TYRES and wheel ALIGNMENT (only recommendation from service, May 2014)
- a NEW second 'LEISURE BATTERY' with charger for power when away from a campsite (for fridge, phones etc)
- manual
- petrol
- 3 seats


OTHER FEATURES:

- SLWB & extra HEADROOM (has 3rd window on passenger side and almost stand up inside)
- dual AIR CONDITIONING (really important!)
- Floor, ceiling and wall INSULATION (keeps cool during the day and the cold out at night)
- 4x 240v and 3x 12v POWER sockets (power when away from campsites for fridge, phones, lights etc)
- 12v interior LIGHTING
- WAECO CDF35 FRIDGE FREEZER (dual 12v/240v with insulation bag, RRP $800)
- Fiamma ceiling VENT
- ELECTRIC TAP and water PUMP
- TOW BAR
- BIKE RACK for 2 bikes (not included)
- windscreen protection cage / roo cage / rear bump bar
- perspex headlight protectors (glass is expensive)
- sunshade visor
- NEW Navara extravison BULBS


CUSTOM INTERIOR FIT (done in February 2014)

- a custom made 2M LONG SOFA BED that can be setup in seconds, with NEW MATTRESS
- 4x chest of DRAWERS
- huge double CUPBOARD
- Hidden SAFE (big enough for laptops, cameras, documents, bags etc) for valuables
- upgraded speakers and an Alpine colour head unit with USB/AUX connectivity
- Nespresso COFFEE MACHINE (yes you read that right)
- 4 bottle WINE RACK
- 2 burner gas STOVE with 4kg gas bottle (bought for $40)
- all cooking UTENSILS; kettle, toaster, pots/pans, plates, mugs, cutlery etc that you could ever need!
- 2x OzTrail BigBoy CHAIRS (bought for $140)
- 1x folding aluminium TABLE (bought for $50)
- 10m caravan CABLE for hooking up to powered sites bought for $40)
- blackout curtains for all windows including front cab, important for privacy
- custom made magnetic FLYSCREENS
- 2x Soren memory foam PILLOWS and Tontin queen size wool DOONER/DUVETt - handy for those colder nights in the outback/NT, (bought for $200)
- interior SHELVING
- plenty of roller STORAGE BOXES under the bench
- 2x 20 litre WATER BUTTS
- 1x 20 litre petrol JERRY CAN
- various TOOLS including powertools, tool box, drill bit set and spare paint (over $250 of product)

All in all we have added over $2500 of value to the interior to make it comfortable and functional.

The van sailed through its roadworthy inspection when we bought it and has since had 2 services where the only recommendation was new tyres (as we drove from Melbourne to Perth) which we had replaced.

We are currently in BROOME but will be moving onto DARWIN over the next couple of weeks.
Please give us a call if you want to know anything else or to have a look at the van.

PLEASE NOTE THAT THIS IS A GOOD VAN, WE ARE NOT BACKPACKERS AND WILL NOT ENTERTAIN OFFERS THAT ARE TOO LOW!