2012-Portrait of a Senior Territorian Art Award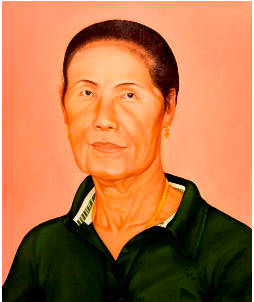 2012 Art Award Portrait of Yib Kohler by Sri Vout
2012 Portrait of a Senior Territorian Art Award

Update: Winner Announced
The 2012 Portrait of a Senior Territorian Art Award has been won by Sri Vout with her portrait of Yib Kohler, a well known stall holder at the Rapid Creek Markets.
The Speaker of the Legislative Assembly, The Honourable Jane Aagaard MLA, has announced the dates for the 2012 Portrait of a Senior Territorian Art Award and Exhibition.
Mrs Aagaard said the exhibition would be on display in Parliament House from Friday 27 July 2012 to Wednesday 15 August 2012 with the Award winners being announced on Wednesday, 1 August 2012..
"I encourage Territory artists to celebrate our senior Territorians by entering a portrait in the Award. Many senior Territorians who have been subjects have told me of the immense pride they have felt at being recognised in this way."
Mrs Aagaard said that artists entering the Award have the chance of winning the Government House Foundation Acquisition Award of $7,000.
"The Parliament also provides a $2,000 Second Prize and a $500 Third Prize, in addition to the $1,000 People's Choice Prize for the artwork that receives the highest number of votes from the public during the exhibition."
The 2011 winning artist was Mrs Peta Riley from Darwin for her portrait titled Ziko, and features Darwin man Ziko Illic.
Entry forms, including terms and conditions, are available by contacting the Speaker's Office on (08) 8901 4159
or emailing LA.speaker@nt.gov.au.