Arafura Games
The Arafura games were due to return in May 2021, have been deferred until 2023 due to the COVID-19 global pandemic.
 Dates for 2023 will be confirmed as soon as possible.

China, Indonesia, Vietnam, the Philippines, Macau China, Timor-Leste, Micronesia, Marshall Islands, Solomon Islands and Tuvalu have all confirmed they will be sending athletes to the Arafura Games, and there will be a strong contingent of athletes from around Australia.

Arafura Games Sports 
The Arafura games will include Dragon Boating, Muaythai and many more conventional sports.
To register as an athlete, team official or volunteer visit www.arafuragames.nt.gov.au

The muaythai competition, will be a qualifying event for the World Games Muaythai competition in Birmingham 2021, and the para table tennis  will be a direct qualifier for the Oceania region to gain their slots for the Tokyo 2020 Paralympic Games.
Other sports such as weightlifting, wheelchair tennis and para athletics will use the Arafura Games as a pathway event for athletes to gain ranking points, record qualification results or participate in the required number of events to be eligible for Tokyo 2020 Olympic and Paralympic Games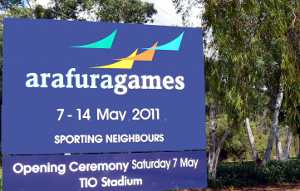 Previous Arafura Games sign at Marrara
"The former chaotic CLP government scrapped the Games. As promised, we are bringing them back on 27 April 2019," Mr Vowles said. "We already have eight countries signed up, and more will be announced soon.

"Kylie Salisbury will work with the Department of Tourism and Culture's Tourism and Events team, which is responsible for successes such as the V8 Supercars Championships, and two officers from the Department of Trade, Business and Innovation, as the Games are as much about building international government and business relationships as they are about sport."
Mr Ken Vowles will meet with the Ministry of Education, Culture, Sports, Science & Technology while in Japan to follow up his invitation to take part in the Games.

Ms Salisbury said she was looking forward to delivering an international sporting event that will benefit the Territory.
"The Arafura Games will bring great opportunities," she said. "I will be working closely with the 15 sports involved to finalise the program, venues and competition schedule as quickly as possible."
The sports included in the 2019 Arafura Games are Athletics, Tennis, Muay Thai, Sailing, Volleyball, Weightlifting, Basketball, Hockey, Netball, Table tennis, Boxing, Soccer, Badminton, Swimming and Archery. There will also be demonstration sports including Sepak Takraw and Dragon Boating.
The current Mayor of Darwin, Mr Kon Vatskalis, was Minister for Sport and Recreation at the previous Arafura Games in 2011.
Previous games were run with the assistance of many volunteers, if you wish to help as a volunteer registrations are open now.
Contact the Arafura Games administration;
Telephone: 08 8946 1404
Email: arafuragames@nt.gov.au
---
Return from Arafura Games to Enjoy Darwin Home.

---