Since March 2020 life as we know it has changed forever due to the coronavirus COVID-19

Local businesses are adjusting to the 'New Normal', please check with the advertised contact for any updates or changes to an advertised service.
Arthritis Brothers Band and Pot-Belly Rock band
by Russell
(Darwin)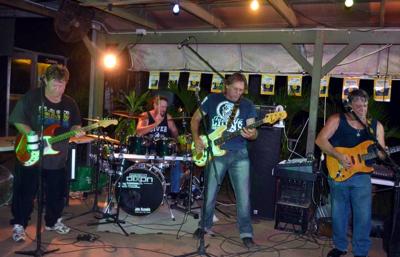 Pot Belly Rock
Both bands revolve around the 50's to 80's Rock and Roll era. We do Private and Corporate functions, Club Functions, Weddings, Birthdays, Divorces, B&S Balls, Hoe Downs etc.

In fact anywhere you need Rock and Roll we will be there. We play throughout Darwin and all rural communities.

Price is negotiable depending on size and location of venue.


With us you deal direct with the Band Leaders. There is NO Agent or hidden costs, once you have been quoted a price, this price will include GST and any travelling costs associated with getting the asked for Band to your venue.
Both these bands, Arthritis Bros, a 3 or 4pce and Pot-Belly Rock, a 5pce, feature all Live Performers thus NO Backing Tapes or Glorified Kareoke.
Available for 2012 including New Years Eve.
Both these Bands also travel and enjoy playing to all Cultures and Creeds.
Phone: 0457 177448 or email anytime
rbbandit69@gmail.com
or check out our face book site at Darwin Crown Street Entertainment