The Ghan, famous Australian Train
Travel to Darwin on the famous Australian train known as The Ghan after the Afghan Camel drivers of central Australia. Connect with trains from Perth, Sydney or Melbourne for a railway adventure across Australia's outback.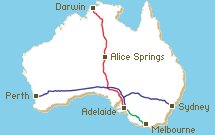 Railways connect north-south and east-west.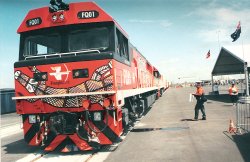 The Ghan welcomed in Darwin in 2004
A major boost to Australian Train Travel.

The first train from Alice Springs arrived in Darwin in 2004, finally connecting Darwin with the rest of Australia by rail.

A new Darwin railway station is located on Berrimah Rd, built specially for The Ghan.
Read more about Australia's other railways and tramways. 
The Ghan takes two nights to travel from Adelaide to Darwin, with the a stopover in Alice Springs for a few days as an Option. Operating twice a week, the Ghan has been booked out continuously since the inception of the trip as travelers cross the continent in luxury. 

---
Platinum Service provides the most luxurious travel including double beds, spacious ensuite and 24 hour room service. This Deluxe Cabin is twice the size of a Gold Kangaroo Twin Cabin.

The Gold Kangaroo service offers elegant twin or single sleeper cabins fully serviced by carriage attendants with fresh sheets, pillows and doonas.

All meals are included in the Gold Kangaroo Service fare.
The Red Kangaroo service is more economical at around half the price of a Gold Kangaroo service and while the service is not as luxurious as the Gold service it is still designed to provide travelers with a comfortable ride across the deserts of central Australia.
Choose between comfortable, twin share day cabin converting to upper and lower sleeping berths at night (Red Sleeper) or comfortable recliner lounge chairs(Red Seat) with generous leg room individual reading lights and complimentary on-board magazines.

Affordable and tasty light meals, snacks and drinks can be purchased and the Diner is fully licensed.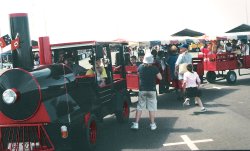 Mini train for kids.
No this in NOT the Ghan!
The arrival of the first Train in Darwin was a cause for celebration and crowds of people came for the welcome.
This train was provided for kids as part of the celebrations on the day.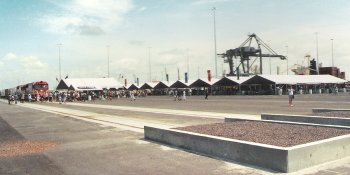 Northen end of the Australian Train Line The new railway will provide a rail connection between the new Port of Darwin and the rest of Australia
---
Return from Australian Train to Enjoy Darwin Home
---