Baskin-Robbins Shares Happiness with Store Opening in Casuarina Square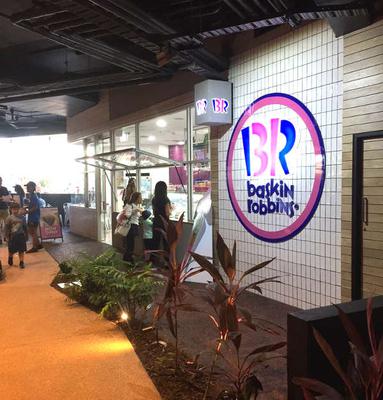 Baskin Robbins Casuarina
Darwin residents are invited to the opening of the only Baskin-Robbins located in the Northern Territory with ice cream treats and surprises to mark the occasion.


From Friday 8 until Sunday 10 July, Guests will enjoy ice cream tasting, colouring in competitions with daily prizes and surprise giveaways throughout the weekend.
Daily specials on offer include free topping with any Double Scoop Waffle Cone purchased, free kids scoop with any Double Scoop Waffle cone purchased and a free Kids Sundae with any Regular Sundae purchased.
For local Franchise Partner, Anand Panchal, the opening of the Casuarina Baskin-Robbins store marks an exciting new chapter for both himself and the brand.
"It's great to be involved in such a significant development within the Northern Territory, I can't wait to bring happiness to this community in every scoop of Baskin-Robbins ice cream," he said.
Baskin-Robbins General Manager, David Jordan, believes there is an ice cream, dessert or beverage to cater for everyone now that the world's favourite ice cream is available to the region.
"We are very excited to have arrived in Darwin, Australia and bringing the world's largest chain of ice cream specialty shops to Casuarina Square. Guests can enjoy decadent desserts, ice cream sundaes, a wide range of blended beverages including smoothies and iced coffees, a signature range of ice cream cakes as well as custom designed ice cream celebration cakes at this new Baskin-Robbins store," said Mr Jordan.
New guests can also join the Baskin-Robbins loyalty programme - Club 31. Upon signing up members receive a free scoop as well as go into the draw to win monthly giveaways. Club members also receive discounts on ice cream birthday cakes, as well as receive the latest news on new ice cream flavours, new products and ice cream treats.
The Casuarina Baskin-Robbins store is located at Casuarina Square, 247 Trower Road, Casuarina. The store is open for daily trading between 10am and 10pm Monday to Thursday, from 10am to 11pm on Friday and Saturday and between 10am and 10pm on Sunday.
For further information about Baskin-Robbins Australia and to find restaurant locations, please visit:
www.baskinrobbins.com.au