Since March 2020 life as we know it has changed forever due to the coronavirus COVID-19

Local businesses are adjusting to the 'New Normal', please check with the advertised contact for any updates or changes to an advertised service.
Bob Marshall
by Bob Marshall
(Darwin NT, Australia)
Bob Marshall Jazz Band with Brooke Barnett has been booked to play as support band at Sky City Casino on May 30, August 1st and September 5th.

The interstate acts on those dates are Carl Riseley, James Morrison and Katie Noonan.

This year Bob wll be playing quite frequently at the Darwin Sailing Club,
Sundays 6 - 9 pm with Brooke and various size instrumental groups.

The 7 piece band has also been booked for a few Darwin weddings and birthday parties.

Mothers Day Lunch May 9th (12:30 - 4:30) at the Mandorah Hotel will see Bob's five piece group in action. New players will be Matt Holt on sax and trombone and Yoris Wilson on bass.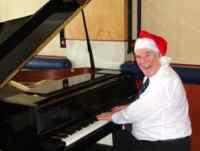 Yuletide Solo
As well as playing other gigs, Bob teaches piano and keyboard. His piano students' ages range from 5 to 45. Some are learning classical while others prefer pop and jazz.
A few are learning how to compose their own music.
Bob Marshall
Piano Teacher, Solo Pianist & Band Leader
Tel 8927 5927 Mobile 0404 862 963
bobsbya@gmail.com