Buffalo Creek
Buffalo Creek is close to Darwin and a popular recreation area for fishing, launching boats, bird watching and just simply walking along the beach.
While it is a popular place, there is plenty of open space to enjoy, especially at low tides when the beach is very wide and extends for miles.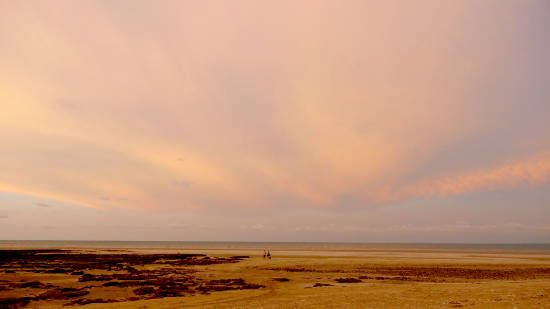 Enjoying the emptiness and colours of the evening beach
The boat ramp is a popular fishing spot which can be very different depending on the tides as the photos below show.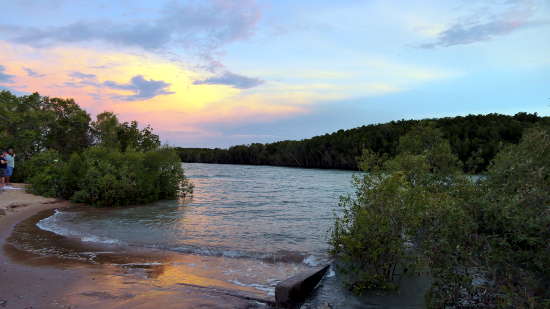 Looking downstream across the top of the ramp during the evening high tide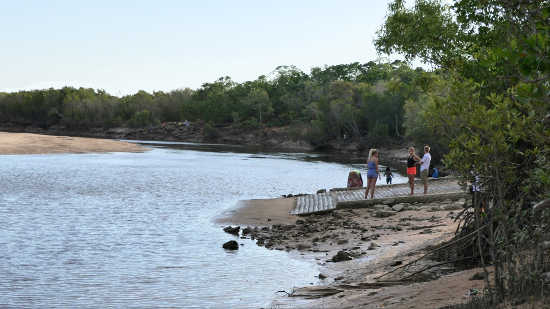 Looking upstream, Buffalo Creek Boat Ramp at a low tide.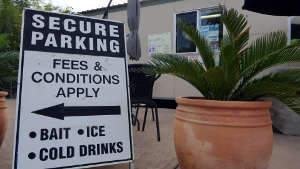 Secure parking and kiosk
Buffalo Creek Boat Ramp
The boat ramp should only be used during tides of 4 metres or more, partly because the sand bar at the mouth of the creek can prevent navigation.
A fenced secure area for 24 hour parking of boats and trailers with after hours access is available next to the kiosk. There is also parking for a few cars at the top of the boat ramp but there is no security provided for this area.
Snack foods, drinks, ice and bait are available at the kiosk located a few metres back from the boat ramp and inside the secure fenced area.
More NT boat ramps information.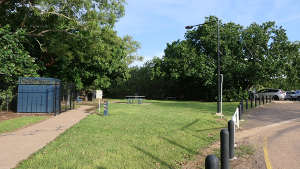 Grassed area with picnic facilities.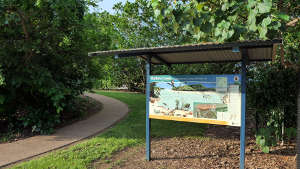 Casuarina Reserve Information Board
The road to the ramp is sealed, with car parks and grassed picnic areas along the beach road.
There is plenty of shade, picnic tables, gas BBQ's and public toilets making this a pleasant place for a family outing.
A large information board alongside a concrete path to the beach provides details on local wildlife and beach locations.
This is part of the Casuarina Coastal Reserve with regulations aimed at protecting the natural flora and fauna. Please observe the defined areas for dogs and horses and keep your dog on a lead all the timeand only in the permitted areas.
Flocks of migratory birds use this stretch of beach, making it an important conservation area.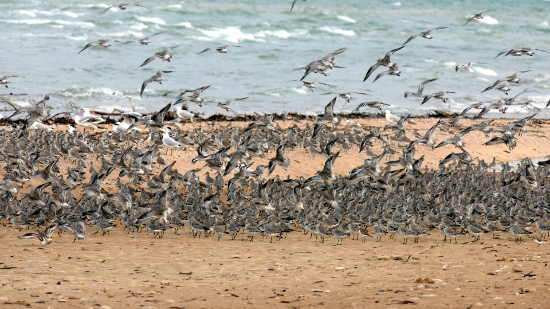 Migratory birds at Buffalo Creek beach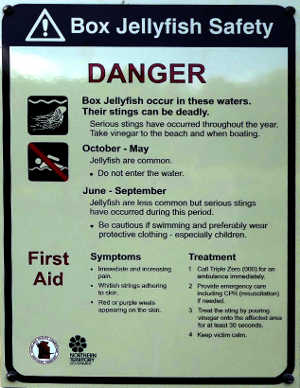 Box Jellyfish warning sign
Remember this is crocodile country and there is always a danger in the water, even with crocodile traps removing crocs as they are caught.
Box jellyfish are also frequently seen in these waters, especially in the wet season months from October to May. You will often see signs like this near beaches, so resist the temptation to take a swim during these months.
There are safer places to swim, even wading into the water carries a certain amount of risk.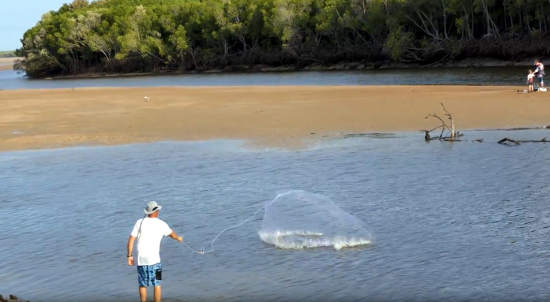 Casting for bait beside the boat ramp.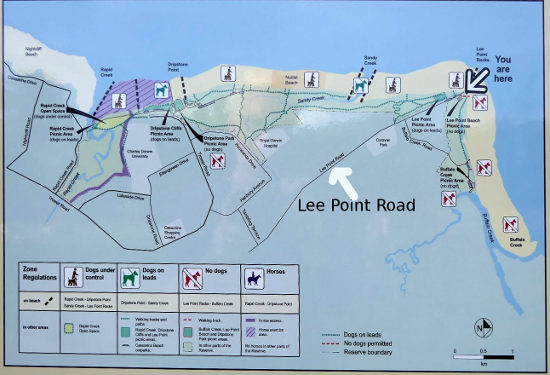 Drive out along Lee Point Road and turn right immediately after the caravan park. It is only a ten minute drive from Casuarina or anywhere in the northern suburbs.
More options for swimming in Darwin
---
Return from Buffalo Creek to Enjoy Darwin Home 
---