Travel by bus to Darwin.
If you travel by bus to Darwin use the Greyhound Bus Map to plan your trip and see Katherine Gorge, Kakadu, Uluru, Alice Springs, Broome, Cairns or other places along the way.
Or if I can put it another way, traveling long interstate trips by bus in Australia is literally a pain in the butt!

For example the trip from Alice Springs to Darwin takes 20 hours which is a long haul in anyones language.

It's much quicker to fly, and if you shop around, sometimes there is not that much difference in the price of the ticket.

However if you have time and can use the trip as a tour with stops at a few interesting places along the way, it can be a great way to experience the vast distances in this country.
The buses are clean, air-conditioned and comfortable and provide a good view of the country through their big windows.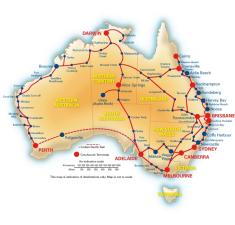 Greyhound Bus Routes
Full details of Greyhound's schedules are available on their website.

Please note that McCaffertys is now trading as Greyhound Australia, so there is really only one company providing these services now.

There are many local companies providing short connecting routes and special tour buses, so check with local information if you need to go off the main routes.

---
Return to Home from Travel By Bus

---