Since March 2020 life as we know it has changed forever due to the infectious, deadly coronavirus COVID-19
Darwin is currently fighting to prevent the spread of this disease with almost every aspect of normal life affected.
As governments everywhere restrict everything from international travel to any local activities which allow the virus to spread,  only essential and necessary activities are permitted.
To read the latest information see the Secure NT website
Butterfly Project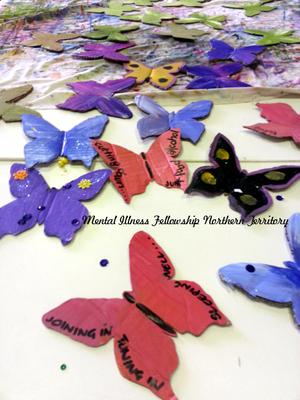 Mental Health Week Butterfly Project
At the MIFA NT we've been painting butterflies for Mental Health Week. We want you to join us at Mindil Beach Markets on Thursday October 10th where we'll not only be displaying our butterflies but inviting YOU to add your positive message. This is all part of Mental Health Week 2013. Help spread knowledge and stop stigma around mental illness.
Join in and write your own page! It's easy to do. How? Simply click here to return to Darwin 2013 Calendar.