Cafe Central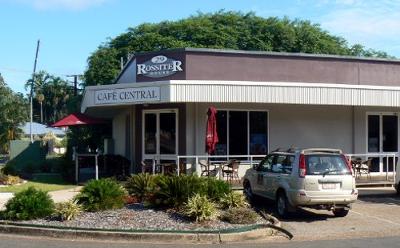 Rossiter Street Cafe
Cafe Central in Rossiter St is dedicated to providing quality meals at competitive prices in a relaxing and enjoyable atmosphere.
This is the perfect place for private meetings as well as small and large group celebrations. Organise your next Christmas event, work meeting, family gathering or friends get together here.


Cafe Central

Shop 1/29 Rossiter St
Nightcliff
Ph 8948 4465

Opening Times
Tuesday- Friday 7.30am - 4.00pm
Saturday-Sunday 7.00am - 3.00pm
Monday Closed


BYO Alcohol @ $2.50 pp

Check out our Catering Menu
Sushi Platters
Breakfast, Lunch & Dinner Functions Big and Small
For private events, corporations, organizations,clubs and businesses.
Cafe Central & Demmob Catering also provide catering with indigenous flavours.
MENU
ALL DAY BREAKFAST
Fresh Fruit Salad w yoghurt 8.80
Muesli w yoghurt & passionfruit 8.80
Toast (2sl) jam,vegemite, peanut butter 4.80
Raison Toast (2sl) 5.80
Bacon and Egg toasted sandwich 7.50
Eggs (2) poached,scrambled or fried w toast 8.50
Big Breaky
- eggs,bacon,tomato,mushrooms,spinach & baked beans w toast 17.80
Vego Breaky
- roasted tomato, mushrooms, spinach, fetto & baked beans w toast 14.90
Extras bacon, smoked salmon, avacado, Chips 3.50
tomato, mushroom, spinach, baked beans 3.00
Side Salad 4.50
Extra egg 2.00
Omelette
Vego - fetta, tomato, spinach, onion 14.90
Chorizo - w ooast capsicum, spinach 15.90
Pancakes - w berries & icecream/yoghurt 11.90
ALL DAY LUNCH
Miso Soup 4.80
Dumplings - Prawn or Vego (6) 6.90
Mini vegetarian spring rolls ( 8) 7.50
Fried Rice
Vegetarian 13.00
Chicken 14.50
B.L.T bacon, lettuce, tomato on Turkish 11.00
B.L.A.T -BLT w avocado on Turkish 13.00
Burger marinated Chicken 15.80
Organic Beef Burger 14.90
Fish n' Chips w side salad 15.50
Salads
Central Super Salad
- tomato, lettuce, cucumber, carrot,beetroot,red onion, sundried tomatoes,fetta & avocado
16.90
Prawn, Avocado & Mango Salad 17.50
Caesar 15.90
Caesar with Chicken 18.90
Teriyaki Tofu !4.00
Chicken 15.80
served w stean rice & salad
Bowl of Chips w tomato or sweet chilli 6.90
QUICK HOT FOODS (Dine in or Take Away)
Toasted Sandwiches
ham+ cheese 5.50
ham+cheese+tomato 6.50
ham+ bacon+cheese 7.50
bacon+egg 7.50
Dumplings -Prawn or Vegetarian (6 serves) 6.90
Mini Spring Rolls (8 serves) 7.50
Hot Chips 6.50
Raison Toast 5.80
Cafe Central

Shop 1/29 Rossiter St
Nightcliff
Ph 8948 4465

Opening Times
Tuesday- Friday 7.30am - 4.00pm
Saturday-Sunday 7.00am - 3.00pm
Monday Closed


BYO Alcohol @ $2.50 pp