Since March 2020 life as we know it has changed forever due to the coronavirus COVID-19

Local businesses are adjusting to the 'New Normal', please check with the advertised contact for any updates or changes to an advertised service.
Cape York Australia
by Katrin
(Cape York)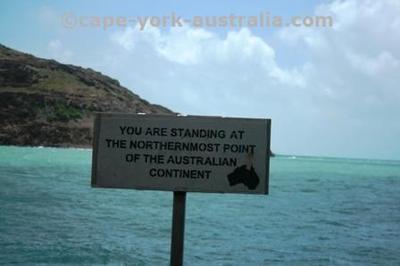 Tip of Cape York
Cape York peninsula is one of Australia's last frontiers and a huge piece of land that is covered in beautiful wilderness, great fishing spots and some fun four wheel drive tracks.

Cooktown is a very interesting town full of history. North of Cooktown is Lakefield National Park - the second largest in Queensland, second only to the vast Simpson Desert.

Along the main road north are some small townships and roadhouses like Palmer River, Lakeland, Hann River, Laura, Musgrave, Coen and Archer River, before you come to the turnoffs to Iron Range in the east and Weipa in the west.

North of Weipa is Telegraph Road and the famous Old Telegraph Track - the best part of the trip according to most people.

In the northern end of the Old Telegraph Track is Jardine River, and north of it is the Northern Peninsula Area with Bamaga, Seisia, Loyalty Beach, Lockerbie, Punsand Bay and the Tip of Cape York peninsula - the northernmost point of mainland Australia.

It's so much fun and excitement with all the river crossings, crocodiles and some great fishing, and of course bush camping and enjoying the Cape's beautiful wilderness.

People don't want to leave, and of course, that's what happened to myself I guess!
Join in and write your own page! It's easy to do. How? Simply click here to return to Travel Australia.