Darwin Aboriginal Art Fair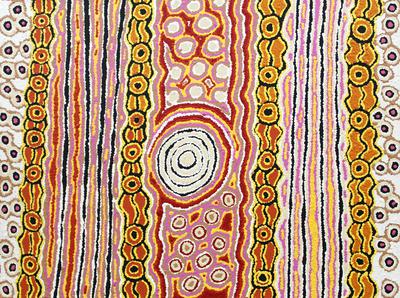 Anne Dixon Ikuntji Artists Haasts Bluff Rockhole
DARWIN ABORIGINAL ART FAIR CELEBRATES 10 YEARS OF ABORIGINAL & TORRES STRAIT ISLANDER TALENT


After raising more than $8.5 million for Aboriginal and Torres Strait Islander communities over the past nine years and showcasing the work of thousands of remote artists, the Darwin Aboriginal Art Fair (DAAF) will celebrate its 10th birthday this year by doubling in size to encompass fashion, film and a panel discussion.
The annual event, running from Friday 5 August to Sunday 7 August, was created as a platform to promote the incredible art work of Aboriginal and Torres Strait Islander Art Centres and communicate the important economic role they play in generating revenue into remote communities.
In 2015, the Darwin Aboriginal Art Fair raised $1.75 million with 100 per cent of the revenue returning to remote communities, and over 10 years, the event has grown steadily to showcase the art works of more than 2000 artists, with thousands of pieces of art available to buy.
This year DAAF will marry Aboriginal and Torres Strait Islander contemporary fine art with textile design and take it to the catwalk, launching the Fair's first fashion runway show. The "DAAF Runway Project" will involve up to 15 Art Centres and designers. DAAF has engaged Northern Territory fashion guru Mehali Tsangaris, Director of NT Fashion Week, to choreograph the event.
DAAF will also showcase the evolving new film scene in Aboriginal and Torres Strait Islander communities with a special Indigenous film festival held in conjunction with Darwin's iconic Deckchair Cinema. Kicking off with a special fundraising evening, the film festival will explore short films and emerging pieces of multi-media produced by Art Centres across the Territory and co-produced with the Darwin Film Society.
DAAFF 2016 PROGRAM
DARWIN ABORIGINAL ART FAIR
WHERE: Darwin Convention Centre, Stokes Hill Road, Darwin, NT
WHEN: Friday 5 August, 10am – 4pm
Saturday 6 August, 10am – 5pm
Sunday 7 August, 10am – 4pm
ENTRY: FREE
WORKSHOPS: 10am-1pm and 1pm-4pm daily
DANCING: 12pm daily
DAAFF FASHION RUNWAY SHOW
WHERE: Darwin Convention Centre, Stokes Hill Road, Darwin, NT
WHEN: Friday, 5 August 8pm
ENTRY: $45
DAAFF PANEL DISCUSSION
WHERE: Darwin Convention Centre, Stokes Hill Road, Darwin, NT
WHEN: Friday 5 August 8.30am
ENTRY: $15
DAAFF FILM FESTIVAL
WHERE: Deckchair Cinema
WHEN: Thursday 11 August – Saturday 13 August
TIME: Doors open 6.30pm
ENTRY: Visit
www.deckchaircinema.com
for further information