Darwin Bank Locations
Since March 2020 life as we know it has changed forever due to the infectious, deadly coronavirus COVID-19
Darwin is currently fighting to prevent the spread of this disease with almost every aspect of normal life affected.
As governments everywhere restrict everything from international travel to any local activities which allow the virus to spread,  only essential and necessary activities are permitted.
To read the latest information see the Secure NT website
Darwin bank locations for ANZ, Bank SA, Bendigo Bank, Commonwealth Bank, NAB and Westpac in the Darwin metropolitan area.
Automatic Teller Machines (ATM's) also provide a significant part of Darwin's banking service and can be found in nearly every shopping centre. 
Of course online banking and changes to the charge rates on ATM's will see more changes coming in the next year or so.
Supporting NT School Sports
The biggest difference between the banks is that the Community Bank branches at Nightcliff, Coolalinga, Katherine and Alice Springs are franchises of Bendigo Bank and are all operated by local community based companies.
Profits from these local companies are returned to shareholders and local community organisations.
ANZ
Casuarina
Casuarina Square
(next to Woolies)
Darwin
69 Smith St
Winnellie
CNR Albatross &
Catterthan Sts
Enquiries 13 13 14
Bank SA
Casuarina
Casuarina Square
Darwin
13 Knuckey St
Enquiries 13 13 76
Bendigo Bank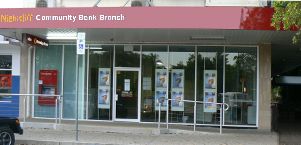 Nightcliff Community Bank
40 Progress Drive
8948 4485
Coolalinga Community Bank
460 Stuart Highway
8983 4111

Darwin
67 Smith St
1300 366 666

CBA
Casuarina
Casuarina Square
(near Woolies)
Darwin
66 Smith St
Enquiries 13 22 21
NAB
Casuarina
5 Bradshaw tce
Darwin
82 Mitchell St
Darwin
24 Cavenagh St
Winnellie
1234 Coonawarra Rd
Enquiries 13 22 65
Westpac
Casuarina
Casuarina Square
(opp JB HiFi)
Darwin
24 Smith St
Winnellie
347 Stuart Highway
Enquiries 13 20 32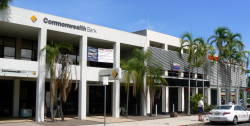 CBA, Westpac and ANZ have all moved into Casuarina Square
---
Return from Darwin Bank Locations to Enjoy Darwin Home
---