Darwin Cemetery links to History
Visit a Darwin Cemetery to connect with the history of Darwin through early settlement, the bombing of Darwin and the destruction caused by cyclone Tracy.

There is no doubt that wandering through any of the five Darwin cemeteries provides an insight into the lives of the people who have contributed to the city we know today.
In these memorials, some unkempt and seemingly forgotten, others still tended and remembered, we have a reminder of all the people, not just the ones that made the history books.

Chinese Cemetery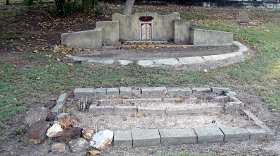 Chinese Cemetery Graves
Located in Stuart Park on Tiger Brennan Drive this old cemetery is the only specifically Chinese cemetery.

No longer used, it is administered by the Chung Wah Society and is a reminder of the strong connection Chinese people have had with the development of the North.

Darwin General Cemetery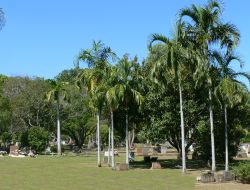 Darwin General Cemetery
Many cyclone Tracy victims are buried here as well as many of Darwins recent aldermen and several former Mayors. 

Opened in 1954 and closed in 2003, the cemetery is located on McMillans Road not far from the Airport.
Gardens Road Cemetery
This cemetery served as Darwin's official cemetery from it's opening in 1919 until December 1970.
This period includes the bombing of Darwin in the Second World War and many servicemen were originally buried here to be relocated later at the Adelaide River War Cemetery.
A total of 848 adults and 83 children were buried here over that time, providing a microcosm of Darwin's history and social development. The cemetery was heritage listed in 1999.
Pioneer Cemetery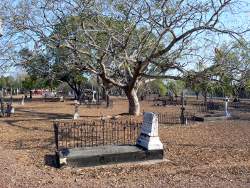 Pioneer (Palmerston) Cemetery
Originally called the Palmerston Cemetery when it was opened in 1865, this site contains 1,200 recorded burials, however only 146 headstones remain.
It's location on Goyder Road was selected by George Goyder when he surveyed the original town site.
In 2003 a special memerial plaque to John Knight, a distinguished Territory Pioneer, was unveiled by The Administrator, John Anictomatis AO
Thorak Regional Cemetery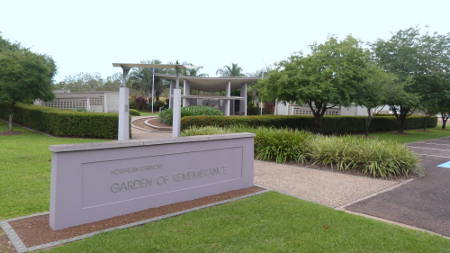 Garden of Memories, Thorak Regional Cemetery
This is the only cemetery serving the greater Darwin area at the present time. It was opened in 1988 and named after Klaus Thorak a distinguished veterinarian who was killed in an aircraft accident along with his wife and son.
Detailed information on many of Australia's cemeteries can be found at www.austcemindex.com
Click here to read more on Darwin City History 
---
Return from Darwin Cemetery to Enjoy Darwin Home.

---