Since March 2020 life as we know it has changed forever due to the coronavirus COVID-19

Local businesses are adjusting to the 'New Normal', please check with the advertised contact for any updates or changes to an advertised service.
Darwin Central Hotel

(Knuckey St, Darwin)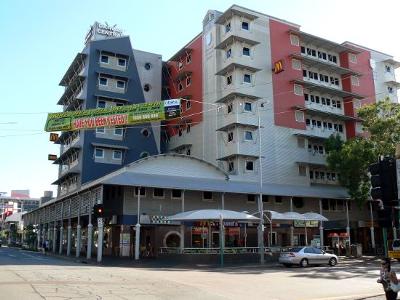 Darwin Central Hotel
Darwin Central Hotel is located right in the centre of the Darwin CBD.
Across the street is the Darwin Mall, around the corner are the Mitchell St restaurants, shops and transit centre, and a 10 minute walk will take you to the Darwin Wave Pool and Wharf precinct.

The hotel advertises 132 beautifully appointed rooms (some with kitchenettes) furnished with state of the art décor to create a modern, cool and relaxing ambience.

Five types of accommodation rooms are available, ranging from studio rooms of 35m to Deluxe rooms with 42m, and of course all rooms come with the facilities you would expect at modern hotel accommodation.

There are three conference rooms available on either a half or full day hire, catering for up to 100 people. Hotel conference staff are able to organise the event for you and can provide quotes for your event.


Contact Information;
Location:
21 Knuckey Street
Darwin 0800
Northern Territory
Australia
Mail:
GPO Box 4625
Darwin 0801
Northern Territory
Australia
Within Australia
P: 08 8944 9000
F: 08 8944 9100
Reservations Only Phone ? 1300 364263
International
P: +61 8 8944 9000
F: +61 8 8944 9100
Email: reservations@darwincentral.com.au