Since March 2020 life as we know it has changed forever due to the infectious, deadly coronavirus COVID-19
Darwin is currently fighting to prevent the spread of this disease with almost every aspect of normal life affected.
As governments everywhere restrict everything from international travel to any local activities which allow the virus to spread,  only essential and necessary activities are permitted.
To read the latest information see the Secure NT website
Darwin Community Arts
by DCA
(Malak)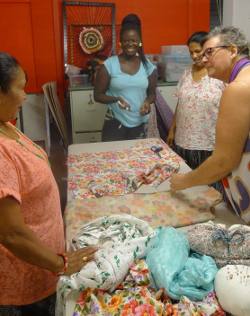 Our Common Threads
DCA has a vision of a Darwin region where art is made and shared by anyone anywhere, anytime.


DCA has moved from Malak to Travers St Coconut Grove.
For up to date information on 2019 programs
check the DCA Facebook page.
Previous programs and times;Malak Community Dinners
gathering with food and performances every last Monday of the month @ 6pm in the Chambers Crescent Theatre (except December)
Music Jam
playing music together every Monday @7pm in the Studio
(except Community Dinner Nights)
CemeNTstars
drama workshops for people with disabilities
Tuesdays @5pm in Chambers Crs Theatre
Our Common Threads
textile art program for women
Wednesdays 10am tp 1pm
Beats & Clips
Creating sound and music videos from scratch.
Make a demo track and a music clip to get yourself on line,to find your audience.
Community Garden
Learn,share your skills and have fun in the DCA Commnunity Garden
Tuesdays 4:30 until 6:30pm
Saturdays 8:30 until 10:30am
Creative Workshops
3D printing, beading, origami, lead lighting and more arts and crafts.
Saturdays 9:30am to 12:30pm
Tuesdays 6pm to 8pm
Theatre Productions
Acting, directing and producing live theatre
Contact DCA for current production opportunities.
If you have a passion for any form of art, please contact DCA to see if we can create together.
Darwin Community Arts
Shop 2 No 1 Travers Street Coconut Grove.
ph 89457347
admin@darwincommunityarts.org.au
www.darwincommunityarts.org.au