Darwin Conventions and Conferences
In Darwin conventions and conferences can now be held at the new convention centre, close to accommodation, the wave pool, the artificial beach and a short walk from Darwin CBD.

The Darwin Entertainment Centre is also able to cater for large conferences, and many of the hotels and clubs are able to provide for smaller groups. The 2020 Conventions and Conferences are listed below in date order.
List your conference for 2020 here.
See the Darwin 2020 Calendar for other activities to enjoy while in Darwin for your conference or at any time throughout the year.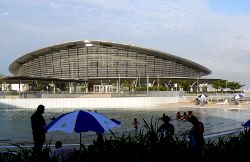 Convention Centre and Wave Pool
2020 Conventions and Conferences
Northern Australia Food Futures Conference 2020 
April 27 - 30 2020
Speech Pathology Australia 2020
May 24 - 27 2020
Darwin Aboriginal Art Fair 
August 7 - 9 2020
GPTEC 2020
September 8 - 10 2020