Darwin Crocodylus Park
Wildlife Zoo & Research centre.
To see crocodiles, lions, tigers and monkeys in Darwin, go to Darwin Crocodylus Park - a wildlife research centre specializing in integrating conservation goals with community needs and values.

Located at 815 McMillans Road, Knuckey Lagoon (opposite the entrance to the Berrimah Police Centre), this park is very easy to reach, just 5 minutes drive from the airport and with a bus stop within a short walk.

From Darwin catch No. 5, from Casuarina catch No. 5 or 9, from Palmerston catch No. 9. (See maps below) It makes a great family outing.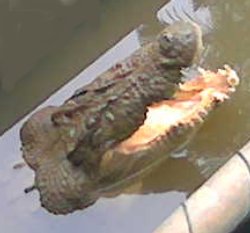 "Come in", the old croc says, "the water's fine"
Meet the largest reptiles on the planet, in the capable hands of trained tour guides.

Learn about these awe-inspiring creatures in an air-conditioned museum, witness daily feeding displays, and feel the soft skin of a crocodile for yourself.
You can also see a world of wildlife that includes hawksbill turtles, green iguanas, monkeys, Persian leopards and Bengal tigers alongside Australian wildlife from brolgas to wallaroos.

Wildlife Management International does much more than operate Crocodylus Park, in fact it is one of the leading conservation companies in Australia.
For 30 years they have been involved in projects in Australia, Indonesia and other countries ranging from basic inventory surveys to research on specific wildlife problems, both in the wild and in captivity.
Some examples of their work include;
Review of the edible bird nest trade in Southeast Asia.
Review of crocodile management in Thailand.
Drafting of the Northern Territory's management program for red-tailed black cockatoos
Development and delivery of a pilot training course in crocodile egg collection, incubation and hatchling rearing for Aboriginal people in Arnhem Land, Australia.
Review of the snake and lizard skin trade in Indonesia.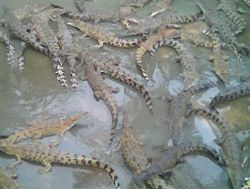 A pen full of crocodiles.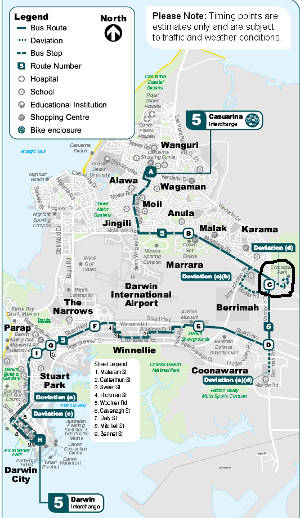 Both Bus #5 and #9 have an extension several times a day which takes you right into the park.
However at other times they both turn off the direct route at the main intersection roundabout, leaving a walk of several hundred metres to the park entrance further down McMillans Road.
Check the Dept of Transport Bus Timetable to ensure you have up to date details.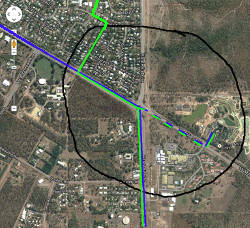 Bus extension route to Crocodylus Park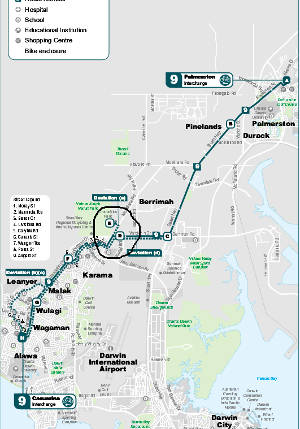 Bus 9 route
The dashed lines show the extensions to the normal bus routes - these are not available at all times on the schedule, so if a walk is a problem, check your times carefully.
---
More Darwin Crocodile Tours & Parks
Return from Darwin Crocodylus park to Enjoy Darwin Home.
---