Since March 2020 life as we know it has changed forever due to the coronavirus COVID-19

Local businesses are adjusting to the 'New Normal', please check with the advertised contact for any updates or changes to an advertised service.
Darwin Fridge Festival
by Darwin Community Arts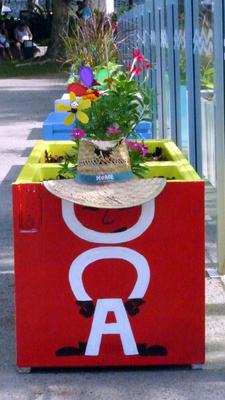 Fridges make handy planter boxes
Darwin Community Arts is producing a unique, adventurous and distinctly Darwin community festival at Malak.

(Photos are from the 2013 Festival)

The event is the Darwin Fridge Festival. Yes Fridge!

The humble fridge is a Darwin icon, and Darwin Community Arts will explore its possibilities as an art and cultural centrepiece.

This Festival involves the whole Darwin community, engages an array of artists (visual artists, performers, graffiti artists, photographers) and brings a sense of identity to the central Malak precinct.

Recycling is a growing necessity and this art allows us to explore the possibilities presented by the large numbers of refrigerators which are dumped each year.
After gases are extracted and metals removed, fridge bodies become available for rebirthing.

Visit the Darwin Waterfront Precinct to see the transformation of old and broken fridges into vibrant works of art.

And now is the time to begin thinking of the 2014 Fridge Festival.
How creative could you be with a Fridge?

To register your interest, or for more information
contact Festival Coordinator
Darwin Community Arts
ph (08) 89457347
info@darwinfridgefestival.org.au
darwincommunityarts.org.au










Join in and write your own page! It's easy to do. How? Simply click here to return to Darwin 2014 Calendar.